Podcast: Play in new window | Download
Subscribe: RSS
By Kristin Ammerman
Hervé Tullet's popular book, "Press Here", has inspired an app for children ages 3-5 years old. I downloaded it for $.99 for my 6-year old. While he played with the app his brothers (8 & 10) were looking over his shoulder encouraging him to try different things. I wasn't sure what to expect because of the wide range of reviews on iTunes, but I was pleasantly surprised how my kids reacted to the app's interactive elements. In this article you'll read our "Press Here" app review!
How to know if this app is for your kids:
On the reviews, some people complained because there were no instructions on how to play. I can understand how that would be frustrating for adults. However, many kids love to randomly try things out by themselves. How grown up and independent this must make kids feel! I believe this is why children are so attuned to technology at an early age. No fear. They don't care if the settings on the iPad get totally messed up to where the parent can't log in! They don't think twice about pressing buttons over and over again until they figure out what works. Do they get excited when they figure out how to take a gagillion photos? Yes! Sometimes I check my phone to see dozens of photos of my floor… all taken within a rapid fire 12-second window of shutter clicking fun.
If this sounds like your kiddo, this app is for them.
Get your boundary-loving child to embrace unstructured play:
My kids have always struggled with unstructured play. They like to have a goal in mind: put the puzzle together, get the marble to the end of the track, or know the finite rules. This is app encourages "open play".
My kids love playing on their digital devices. But, even those are structured with goals: be the first to finish the race, finish the level or save the princess. This app meets their desire to push every button on my electronic device while in an "open play" environment. This is a great way to reward and engage them in a game with no finite rules. The child makes their own rules. They randomly try things until the desired outcome is achieved.
App Interface:
In the video below, you'll see how my 6-year old interacts with the app. This is him with only 20 minutes of experience under his belt. He has already figured out the elements of the app, and he's still interested in exploring and discovering more. You'll get an idea of what the visual interface looks like and hear some of the sound effects.  You'll also see the homepage (the grid of 15 dots). My 6-year old clicks on the dots and the app replies in a sweet child's voice with the name of each game the dot represents. He's enjoying figuring out what each dot-game can do.
Image: 6-year old playing the "Press Here" app
Yes, that is marker all over his hands. He loves drawing with markers (and nothing else. Ever.)
I can see that for older kids the novelty would wear off quickly (although my 10 year old is just off screen watching the entire time the above film is recorded), but for the younger kids this is a great app to pull out while waiting in lines at the grocery store, in a doctor's reception room, while adults talk…you get the idea.
More Information on "Press Here" app:
For specifics on the "Press Here" app, the Horn Book did a detailed review of why the app was created,  the popular book that inspired it all, and more!
Do you have a favorite children's app? We'd love to hear about it!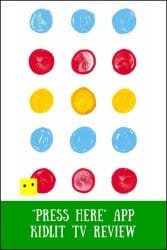 Click HERE to enter to win books signed by Hervé Tullet with hand drawn art!