Children's Choice Book Awards 2015 | Red Carpet
by Julie Gribble
Earlier this week, May 4th, the Children's Choice Book Award winners were announced! There was anticipation over who would be the winner for each category, but the atmosphere was more fun than tense, and KidLit TV was excited to participate. Rocco Staino represented KidLit TV on the Red Carpet interviewing some of our favorite people. We were able to interview authors and illustrators nominated for the awards as well as those who were presenting.  Check out our video to see interviews with nominees:
CeCe Bell (Children's Choice Debut Author), El Deafo
Tracey West (5th-6th Grade Book of the Year), Temple Run: Race Through Time to Unlock Secrets of Ancient Worlds
Emily (E.) Lockhart (Teen Book of the Year), We Were Liars
Sudipta Bardhan-Quallen (Kinder-2nd Grade Book of the Year), Duck, Duck, Moose!
Katherine Roy (Children's Choice Debut Author), Neighborhood Sharks: Hunting with the Great Whites of California's Farallon Islands
Jennifer Mathieu, (Teen Choice Debut Author), The Truth About Alice: A Novel
We had a fantastic evening talking with many of our literary friends from the industry including past StoryMakers, Sergio Ruzzier, Jacqueline Woodson, Sophie Blackall, Emily Lockhart, and Jennifer Brown!
FROM CBC:
New York, NY — May 4, 2015 – The Children's Book Council and Every Child a Reader announced the winners of the eighth annual Children's Choice Book Awards (CCBA) at a ceremony benefitting Every Child a Reader in New York City this evening. The announcement is an annual highlight of Children's Book Week (May 4-10, 2015) as the Children's Choice Book Awards is the only national book awards program where the winning titles are selected by kids and teens. Young readers across the country voted in record numbers for their favorite books, authors, and illustrators at bookstores, schools, libraries, and at ccbookawards.com, casting more than 1,300,000 votes.
We're nearly six months into 2015, now. Have you read any great kid lit books you'd like to see nominated for next year?
To celebrate this year's CBC Children's Choice Book Awards, we're hosting a giveaway below!
WIN a Basket of Books!
Enter to win ALL of this year's Children's Choice Book Awards WINNERS:
KINDERGARTEN TO SECOND GRADE BOOK OF THE YEAR
Eva and Sadie and the Worst Haircut EVER! by Jeff Cohen, illustrated by Elanna Allen (HarperCollins Children's Books)
THIRD GRADE TO FOURTH GRADE BOOK OF THE YEAR
Kali's Story: An Orphaned Polar Bear Rescue by Jennifer Keats Curtis, illustrated by John Gomes (Arbordale Publishing)
FIFTH GRADE TO SIXTH GRADE BOOK OF THE YEAR
The Dumbest Idea Ever! by Jimmy Gownley (Graphix, an imprint of Scholastic)
TEEN BOOK OF THE YEAR
The One by Kiera Cass (HarperTeen)
CHILDREN'S CHOICE DEBUT AUTHOR
J.A. White, The Thickety: A Path Begins (Katherine Tegen Books, an imprint of HarperCollins Children's Books)
TEEN CHOICE DEBUT AUTHOR
Jennifer Mathieu, The Truth About Alice (Roaring Brook Press, an imprint of Macmillan Children's Publishing Group)
CHILDREN'S CHOICE ILLUSTRATOR
Chris Appelhans, Sparky! by Jenny Offill (Schwartz & Wade, an imprint of Random House Children's Books)
Host: Rocco Staino @RoccoA
Executive Producer: Julie Gribble @JulieGribbleNYC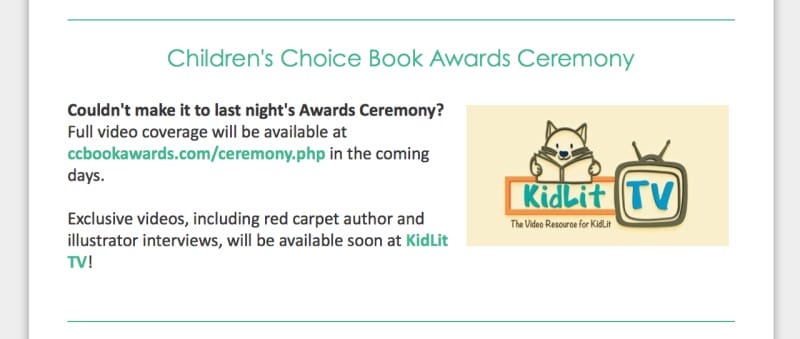 Join us on Facebook: https://www.facebook.com/groups/KidLitTV
Pin us on Pinterest: http://www.pinterest.com/KidLitTV
Follow us on Twitter: https://twitter.com/NYMediaWorks
Get Your Backstage Pass to view EXTRAS from KidLit TV: https://kidlit.tv/newsletter