Read Out Loud | Ame Dyckman Reads 'Wolfie the Bunny'
There are many different types of families. Sometimes the family that chooses you, or vice versa, is the best! So, what's the worst that can happen if the Bunny family adopts a wolf pup they find on their stoop? Will he grow up to be big and strong, then eat them all up?
Grab a carrot to nibble on, and relax, as author Ame Dyckman reads Wolfie the Bunny; a furry tale of interspecies adoption, sibling rivalry, bravery, and love … Lots of love! Illustrator Zachariah OHora makes a special appearance as the loveable furball, Wolfie.
There will be carrots!
"The text is seamlessly integrated with the illustrations and uses various fonts to good effect. OHora's acrylic paintings are the heart of this tale. They clearly show everyone's feelings from fear to sadness to joy to anger to love and everything in between, and there are brilliant bits of humor and whimsy added to the mix. VERDICT: A great book for one-on-one sharing that's also sure to be a storytime hit." ― School Library Journal, starred review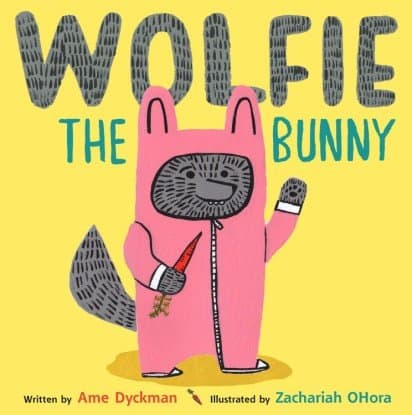 From Little, Brown Books for Young Readers
Families of all kinds will delight in this sweet tale of new babies, sibling rivalry, bravery, unconditional love…and veggies! The Bunny family has adopted a wolf son, and daughter Dot is the only one who realizes Wolfie can–and might–eat them all up! Dot tries to get through to her parents, but they are too smitten to listen. A new brother takes getting used to, and when (in a twist of fate) it's Wolfie who's threatened, can Dot save the day?
CONNECT WITH AME
Website
Facebook
Goodreads
Twitter
CONNECT WITH ZACHARIAH
Website
Goodreads
Tumblr
Twitter
CONNECT WITH KidLit TV
Facebook Group
Facebook Page
Newsletter
Pinterest
Twitter
YouTube
Read Out Loud
Executive Producer: Julie Gribble
Like it? Pin it!