As the first multimedia website that connects parents, teachers, and librarians to the world of children's literature, KidLit TV is an ardent supporter of Pragmatic Mom, a parenting, education and literature blog   founded by Mia Wenjen, who is also a co-founder of Multicultural Children's Book Day. On Pragmatic Mom, you'll find topics including educational apps for kids, special needs resources, kids book clubs, and book reviews. As our Featured Expert Mia opens up about why she created Pragmatic Mom, offers diverse book recommendations, and so much more.
Mia's Interview 
As a parent blogger what are some of your favorite topics to write about, and why?
I am passionate about promoting multicultural, diverse, and inclusive books for kids; particularly for ages 2 through 12. I read every book in my school library when I was a kid, but I never saw Asian Americans in any of the books I read. I'm happy there are more diversity titles for kids than when I grew up, but I think we can do better. The number of titles of a diverse nature has not gone up in the last fourteen years while the demographics in the United States show an increasing growth in people of color.
Kids need to see themselves in what they read and in the media. 
Valarie Budayr of Jump Into a Book and I started Multicultural Children's Book Day three years ago. This year, we will celebrate diversity in children's books on

January 27th, 2016

.
We welcome parenting, lifestyle, education and book bloggers to sign up. We will give you a diverse children's book to review and you just post on

January 27th

on your blog and add to our linky. Last year we had 200+ parenting bloggers and we'd love to grow that number.
What three books do you think parents or educators should have on their reading list this month? 
November is Native American Heritage Month and I just read two great ones:
Buffalo Bird Girl: A Hidatsa Story by S. D. Nelson because it's a true story with period photographs and gorgeous illustrations about the Hidatsa people who lived in permanent farming communities along the Missouri River on the Great Plains. Buffalo Bird Girl lived during the time when her people lived in earth-mound lodges on the bluffs of the Missouri River along with the Mandan people in an alliance against the Lakota. Even though they were a permanent community, they were forced to Indian Reservations in North Dakota. This is an advanced picture book for ages 8 and up.
Saltypie: A Choctaw Journey from Darkness into Light by Tim Tingle is about his own life as a contemporary American Indian. His grandmother, as a young mother, had a rock thrown at her head while standing on her porch after moving to Texas. This injury eventually caused her to lose her vision. This picture book is wonderful for starting a discussion about bullying, racism, and how to react to that when dealing with it first hand. The term "saltypie" is a way of dealing with adversity. This picture book is for ages 5 and up.
For Thanksgiving, I just met a lovely illustrator of more than 26 books who just published his first book, The Boy Who Fell Off the Mayflower or John Howland's Good Fortune by P. J. Lynch. Written in the first person from the perspective of a young indentured servant, it makes history come alive! This is an advanced picture book for ages 8 and up but it begs to be read aloud and then it would work for younger kids too.
I have a short 2-minute video interview of P. J. Lynch here:
What are some kid lit activities, DIY crafts, or games for kids that have caught your attention recently? 
I love Megan Sheakowski of Coffee Cups and Crayons focus on gratitude. Her
Random Acts of Christmas Kindness Printable Advent Calendar
inspired me to make my own DIY advent calendar and do RAKs with my kids last year. I plan to do this again this year
. Research has shown that gratitude is the gateway to happiness! It's such a busy time of year that it's nice to have Megan's template of ideas and printable to make this doable.
Valarie Budayr also has a beautiful book of year-long activities, A Year in the Secret Garden, based on the classic The Secret Garden. Next week is author Frances Hodgson Burnett's birthday too! I have this on my holiday shopping list to gift to moms who like to do book extension activities with their kids.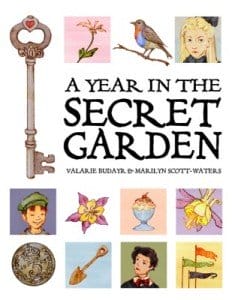 My son has been testing out STEM toys for me. So far, the DIY Electro Dough Kit is his favorite. You can use purchased Playdoh or make your own and it comes with LED lights, an alarm, and other gadgets to learn about electricity. I love how it's structured but lends itself to open-ended experimentation.
ARCKIT 60 is another open-ended building toy that he liked. You use it to build architectural models by either following the instructions or going free form.
What do you have coming up that you're most excited about?
This year, Valarie of Jump into a Book and I are adding a new Classroom Reading Challenge to Multicultural Children's Book Day.
We are also GIVING away a hard-cover diversity book to teachers who sign up for our Classroom Reading Challenge. In this way, we hope to get diversity books into the hands of kids who really need them.
We are fortunate to have Junior Library Guild sponsoring our Classroom Reading Challenge. They have selected outstanding diversity books for kids and teens and are donating them to help us get inclusive books into classroom libraries.
TEACHERS:
Get a FREE diversity hardcover book from Multicultural Children's Book Day by going
here
!
What should parents and educators know about KidLit TV? 
Book trailers are a great way to get kids reading and KidLit TV has a wonderful library of wonderful
children's book trailers
.
KidLIt TV also has great ideas for book crafts. Try these for a book club for kids or just to make a book come alive!