#KidLitOnEllenShow Campaign Video!
The KidLit TV team had an exciting time at the studio celebrating the American Library Association's  2016 Caldecott and Newbery award winners, Finding Winnie: The True Story of the World's Most Famous Bear, illustrated by Sophie Blackall and Last Stop on Market Street, written by Matt de la Peña, illustrated by Christian Robinson.
Authors, illustrators and kid lit friends spent the day working together to create a video to support the Ambassador of School Libraries for Scholastic Book Fairs John Schumacher's (aka Mr. Schu) #KidLitOnEllenShow campaign, a hashtag that hopes to bring Caldecott and Newbery winners to the The Ellen Show. Many years ago, winners of these awards were interviewed on a major television network, but no more. We think it's time to highlight these awards and the importance of children's literature again. Join us by using #KidLitonEllenShow to spread the word about this wonderful campaign!
Thank you to the folks below who helped us make the #KidLitOnEllenShow video:
Laurel Nakai – Laurel is a writer, singer-songwriter, poet, mom, seeker, daydreamer, and cheerleader of the human spirit. She is a kid lit author and song writer and will be the newest family member of the KidLit TV team!
The World God Made For Me– "THOUGH WE MIGHT CALL GOD BY DIFFERENT NAMES, WE ARE ALL A PART OF THIS GREAT BIG WORLD, AND THE SAME HUMAN FAMILY" Learn about all the wonderful things God created with this vibrant and lyrical book. A unique interfaith quotes page exposes children to different faiths and cultures around the world!
CONNECT WITH LAUREL:
Website | Twitter | Instagram | Facebook
Roxie Munro – Roxie is the author/illustrator of more than 40 nonfiction and concept books for children, many using "gamification" to encourage reading, learning, and engagement  (including Mazescapes; Amazement Park; the Inside-Outside Books: New York City [New York Times Best Illustrated Award], Washington DC, Texas, London, Paris, and Libraries; Feathers, Flaps & Flops; Doors; Gargoyles, Girders & Glass Houses; Ranch; Wild West Trail Ride Maze; Circus;Mazeways: A to Z; Rodeo; Go!Go!Go!; Inside-Outside Dinosaurs; and the KIWi Storybooks nonfiction series). Her books have been translated into French, Italian, Dutch, Chinese, and Japanese.

Market Maze – Eight trucks hit the highway in a colorful and mesmerizing maze book that helps kids understand how food gets to their tables. In eleven intricately drawn mazes, eight vehicles, each carrying a different product, are on their way to the city. Fish, apples, dairy products, corn, vegetables, flowers, eggs, and baked goods all travel through colorful and minutely detailed landscape mazes to reach the city farmer's market. Information on all of the products and their journeys is included along with answers to all of the mazes. For additional fun kids are challenged to look for objects hidden on each spread.

The Inside-Out Book of London – Seen from outside and then inside, London's sights reveal the majesty that makes this city so intensely historic and uniquely civilized. Awakening all of the senses with her sweeping perspectives, vivid colors, and abundant details, artist Roxie Munro whisks readers to London and what a feast for the eye that great city proves to be Munro balances her playful sense of fun with taking the reader to the highlights of one of the world's great capitals. Some of the big tourist spots are pictured Buckingham Palace, St. Paul's Cathedral, the Houses of Parliament but her inclusion of smaller venues, such as a New Oxford Street scene in the rain, is inspired, giving readers the daily flavor of London life. From riding atop a double-decker bus down Regent Street to watching the Queen's Royal Procession, The Inside-Outside Book of London is a taste of all things London for children and tourists of all ages.
Shop More on IndieBound!
CONNECT WITH ROXIE
Website | Facebook | Twitter | LinkedIn | Pinterest 
Paul O. Zelinsky – Paul O. Zelinsky grew up in Wilmette, Illinois, the son of a mathematics professor father and a medical illustrator mother. He drew compulsively from an early age, but did not know until college that this would be his career. As a Sophomore in Yale College he enrolled in a course on the history and practice of the picture book, co-taught by an English professor and Maurice Sendak. This experience inspired Paul to point himself in the direction of children's books. His first book appeared in 1978, since which time he has become recognized as one of the most inventive and critically successful artists in the field.He now lives with his wife in Brooklyn, New York. They have two grown daughters.
Among many other awards and prizes, he received the 1998 Caldecott Medal for his illustrated retelling of Rapunzel, as well as Caldecott Honors for three of his books: Hansel and Gretel (1985), Rumpelstiltskin (1987), and Swamp Angel (1995).

Circle, Square, Moose – In this companion to the acclaimed Z Is for Moose, Moose infiltrates a book about shapes (because he loves shapes, naturally) and it is up to his best friend, Zebra, to restore order and save the day. Another triumph from the award-winning team of Kelly Bingham and Paul O. Zelinsky. This hilarious book manages to illustrate a fact or two about shapes while providing a three-dimensional stomping ground for best friends Moose and Zebra. What will happen? Who will save the day? It's all up in the air until the final page, where Moose and Zebra (and Cat, too) create a perfect–and perfectly heartwarming–ending. This stand-alone companion to Z Is for Moose features a multilayered story told through text, asides, conversation bubbles, and pictures. Themes of friendship, exploration, and conflict resolution–and of course the concept of shapes, including the shape of a book–make this an ideal read-aloud for the elementary school classroom and for home.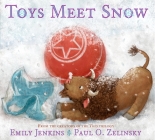 Toys Meet Snow – Lumphy, StingRay, and Plastic the toys from the beloved chapter books "Toys Go Out, " "Toy Dance Party, " and" Toys Come Home" are back in a glorious full-color picture book, perfect for gift-giving this holiday season. Acclaimed author Emily Jenkins and Caldecott Medal winning illustrator Paul Zelinsky have created a book destined to become a classic.  Children who have loved listening to the Toys trilogy, as well as those meeting the toys for the very first time, will be thrilled to see Lumphy, StingRay, and Plastic venture outdoors to play in the snow. Together the toys build a snowman, make snow angels, and, when day is done, head back inside their cozy house and wait for the return of the Little Girl.
Shop More On Indiebound!
CONNECT WITH PAUL
Website | Twitter
Jeff Baron – Jeff Baron grew up in suburban New Jersey, the son of a secretary and a clothing salesman. The first in his family to go to college, Jeff got a film degree from Northwestern University, where his comedy writing and lyrics were frequently performed on and off campus. He worked for the skiing trade association for a few
years, then got an MBA from Harvard Business School. During his two years at Coca-Cola, Jeff managed the creation and introduction of Ramblin' Root Beer. He left to become a Marketing Director for Warner Amex Satellite Entertainment Company, which became MTV Networks. He left the corporate world when his dad became seriously ill, while Jeff was still in his 20's.

I Represent Sean Rosen – Sean Rosen makes funny videos you can watch online. He also has ideas for movies, TV shows, and games that he knows are good enough to be produced by the biggest studios in Hollywood. The only problem is, he's a kid. And he's busy with school. And he lives far from Los Angeles or New York City. But Sean does have a laptop and a phone, and he's smart. He's about to have the ride of a lifetime as he discovers the ins and outs–and dos and don'ts–of becoming one of the youngest movie moguls the world's ever known. An inventive, original, and hilarious novel that will leave fans of Diary of a Wimpy Kid, Carl Hiaasen, and Louis Sachar eager for Sean's next adventure.

Sean Rosen Is Not for Sale – Get ready for the sequel to I Represent Sean Rosen, the original and very funny debut novel that has the New York Times-bestselling creator of Big Nate, Lincoln Peirce, proclaiming, "Sean Rosen is my hero ". The stakes are higher, the funny stuff is funnier, and the completely original and individual wunderkind Sean Rosen is balancing middle school and his career in ways never before seen. The adventures of Sean Rosen and his fictitious manager, Dan Welch, continue as Sean works on his screenplay, deals with seventh grade and track practice and a dog-walking job, records his podcasts, and tries to keep his brush with stardom a secret from his parents. Meanwhile, a major Hollywood movie studio has sent a private detective to Sean's town to find out who this Sean Rosen kid is, and what the nature is, exactly, of his big idea. Featuring another original Christoph Niemann cover, this is perfect for fans of Jack Gantos, Jeff Kinney, and Carl Hiassen.
Shop More On Indiebound!
CONNECT WITH JEFF:
Website | Twitter
Dan Yaccarino –Dan Yaccarino is an award-winning artist whose work has been featured in magazines, ad campaigns, and animation worldwide. His large-scale paintings and sculptures have been exhibited in galleries across New York City, Tokyo, and Rome. Mr. Yaccarino has written several books of his own and illustrated numerous books by other authors, including I Met a Bear and So Big!. His television show Oswald the Octopus airs on Nick Jr. He lives with his wife, Susan, and their son, Michael Dante, in New York City. Dan Yaccarino is an award-winning artist whose work has been featured in magazines, ad campaigns, and animation worldwide. His large-scale paintings and sculptures have been exhibited in galleries across New York City, Tokyo, and Rome. Mr. Yaccarino has written several books of his own and illustrated numerous books by other authors, including I Met a Bear and So Big!. His television show Oswald the Octopus airs on Nick Jr. He lives with his wife, Susan, and their son, Michael Dante, in New York City.

Doug Unplugged– Doug is a robot. His parents want him to be smart, so each morning they plug him in and start the information download. After a morning spent learning facts about the city, Doug suspects he could learn even more about the city by going outside and exploring it. And so Doug . . . unplugs. What follows is an exciting day of adventure and discovery. Doug learns amazing things by doing and seeing and touching and listening and above all, by interacting with a new friend.

Billy and Goat at the State Fair – Two best friends visit the state fair in this tale of courage and corn dogs. Billy and Goat are best friends, but they have different styles. Billy likes to smell the roses Goat likes to eat them So it's no surprise that they have different ideas of how to enjoy the state fair. For Billy, the crowds and the noise are pretty intimidating. He's happy to wait in the livestock pens until the best-goat contest begins. But Goat's not one to sit when he could run. Faster than you can say butter sculpture, Goat's out of the pen and leading Billy on a merry chase past rides, games, contests, and exhibits. When Billy finally catches up to him on the biggest float of the parade he's relieved, but also amazed. The fair is awesome They may have missed Goat's chance to win best in show, but for Billy it's never been more clear his best friend is the best goat ever.
Shop More on Indiebound!
CONNECT WITH DAN:
Website | Twitter
Steve Light – Have you seen my monster? If you haven't we know author Steve Light has! Steve's Have You Seen My Dragon? and Have You Seen My Monster? are perfect books for preschoolers learning numbers and shapes. Zephyr Takes Flight is a fanciful look at the adventures of an inquisitive little girl whose imagination lifts her to new heights. Like all good teachers, Steve makes school seem more like fun than work.
"Librarians are amazing people." – Steve Light
Steve credits his elementary school librarian with helping to cultivate his love of stories and art. As a child, he found solace within the confines of his school library. After spending many days peering out a window, the librarian reached out to ask if he had any particular interests. From then on, Steve would find a stack of books waiting for him on the windowsill whenever he visited the library.
Via Indiebound.org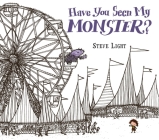 Have You Seen My Monster? – In a follow-up to Steve Light's highly praised "Have You Seen My Dragon?, "the county fair is filled with shapes and somewhere among them a monster is waiting to be found.
A little girl gallivants through a county fair, searching for her furry friend. Readers will surely spot the friendly monster as well as twenty shapes, identified here by their proper names trapezoids, ellipses, kites, and more hidden among iconic fair attractions from the fun house to the Ferris wheel. Maybe the monster is judging the pies? Or perhaps he's at the monster-truck rally? Youngsters will be so mesmerized by Steve Light's masterful pen-and-ink illustrations, decorated with vivid splashes of color, they won't even realize they've learned how to spot a nonagon while looking for a monster.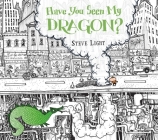 Have You Seen My Dragon? – Enter a fascinating, ornately drawn cityscape and help a boy find his dragon while counting objects from hot dogs to traffic lights.
In the heart of the city, among the taxis and towers, a small boy travels uptown and down, searching for his friend. Readers will certainly spot the glorious beast, plus an array of big-city icons they can count. Is the dragon taking the crosstown bus, or breathing his fiery breath below a busy street? Maybe he took a taxi to the zoo or is playing with the dogs in the park. Steve Light's masterful pen-and-ink illustrations, decorated with meticulous splashes of color, elevate this counting book (numbers 1 20) to new heights. Maybe the dragon is up there, too.
Shop More on Indiebound!
CONNECT WITH STEVE
Website | Instagram | Twitter
Kelly Light – Author and illustrator Kelly Light grew up on the New Jersey shore surrounded by giant pink dinosaurs, cotton candy colors, and Skee-Ball sounds. She was schooled on Saturday-morning cartoons and Sunday funny pages. She picked up a pencil, started drawing, and never stopped. Kelly has illustrated Elvis and the Underdogs andElvis and the Underdogs: Secrets, Secret Service, and Room Service by Jenny Lee, and The Quirks series by Erin Soderberg.
Kelly is an International Ambassador of Creativity for The Chuck Jones Center for Creativity! The Center is a non-profit founded by Chuck Jones, the animator, artist and director of so many of the cartoons that we think of when we just think the word "cartoon". In his lifetime, Chuck enjoyed talking to and encouraging younger artists. The center continues in this spirit to ignite creative thinking through free art classes for kids, creativity workshops, presentations and talks for kids and adults meant to inspire and enlighten. The center also has outreach programs to local schools who have lost their art funding and visits senior citizen centers to provide drawing and creativity exercises for greater mental and emotional health.


Louise Loves Art – Meet Louise. Louise loves art more than anything. It's her imagination on the outside. She is determined to create a masterpiece—her pièce de résistance! Louise also loves Art, her little brother. This is their story. Louise Loves Art is a celebration of the brilliant artist who resides in all of us.
Shop More on Indiebound!
CONNECT WITH KELLY LIGHT
     Website | Facebook | Goodreads | Instagram | Twitter
Naoko Stoop- Naoko Stoop is a Brooklyn, New York based self taught illustrator. She creates childhood images in her loft studio, trying to bring out the five-year old in people through her artwork, because she believes that is the last moment before children start learning how complicated the world is, and that was when she once stopped drawing.


Red Knit Cap Girl – "Red Knit Cap Girl is a little girl with a big dream — to meet the Moon." Red Knit Cap Girl lives with her animal friends in an enchanted forest. There is so much to see and do, but more than anything Red Knit Cap Girl wishes she could talk to the Moon. Join Red Knit Cap Girl and her forest friends on a journey of curiosity, imagination, and joy as they search for a way to meet the Moon. Gorgeously illustrated on wood grain, Red Knit Cap Girl's curiosity, imagination, and joy will captivate the hearts of readers young and old as her journey offers a gentle reminder to appreciate the beauty of the natural world around us.

Red Knit Cap Girl and the Reading Tree – This new adventure with Red Knit Cap Girl and her friends uses simple prose and radiant illustrations to shine a light on the joy of reading and the importance of working together.
One day Red Knit Cap Girl and her friends discover a hollow tree in the middle of the forest. What can be done with one ordinary tree? "I will keep my book in this nook so everyone can read it," Red Knit Cap Girl says.
But the tree isn't only for books. Little by little, one by one, the animals share their unique gifts and turn the ordinary tree into a special spot for everyone to enjoy.
Shop More on Indiebound!
CONNECT WITH NAOKO:
Website | Blog | Twitter  
Elizabeth Levy- Elizabeth Levy has been writing and publishing award winning books for more than thirty years, and in that time she has written more than eighty books, a number that continues to surprise her. She lives in New York City.


Amber Brown is Tickled Pink – Beloved Amber Brown returns! Amber Brown is excited about her mom and Max's upcoming wedding. Not only does Amber get to be the Best Child but all her best friends are invited, including Justin, whose family will be making a special trip back to town just for the big event But when every conversation about the wedding causes a fight about money, they talk about a having a tiny wedding without any family or friends. On top of that she's on the hunt for the perfect dress and writing her Best Child speech.
Paula Danziger called Bruce Coville and Elizabeth Levy her best friend and her other best friend, and this close connection enabled them to lovingly capture Amber Brown's voice, sense of humor, big-heartedness, and her fondness for puns.


Amber Brown Horses Around – Amber Brown is one happy camper. She and her best friend, Justin, are spending the summer at Camp Cushetunk.Learning to ride Cinnamon, the sweetest horse ever, is so amazing that Amber doesn t even mind shoveling her poop. Then Amber becomes the target of a series of pranks. Certain she knows who is behind them, Amber and her friends come up with the biggest prank ever to get revenge. But the outcome is not what they expect. Turns out horsing around can lead to big trouble. But sometimes, Amber is surprised to learn, big trouble can lead to big changes for the better.
Shop More on Indiebound!
CONNECT WITH ELIZABETH:
Website | Blog
Fran Manushkin – Fran is the author of over twenty-five books for children, including Baby, Come Out!, Little Sleepyhead, and Latkes and Applesauce: A Hanukkah Story. She is a co-chair of the Children's Book Committee of PEN American Center and she lives in New York City. 

Happy in Our Skin – Is there anything more splendid than a baby's skin? For families of all stripes comes a sweet celebration of what makes us unique and what holds us together.
Just savor these bouquets of babies cocoa-brown, cinnamon, peaches and cream. As they grow, their clever skin does too, enjoying hugs and tickles, protecting them inside and out, and making them one of a kind. Fran Manushkin's rollicking text and Lauren Tobia's delicious illustrations paint a breezy and irresistible picture of the human family and how wonderful it is to be just who you are.


Cartwheel Katie – When Katie sees gymnasts on TV, she thinks the girls are so cool So she jumps at the chance to take a gymnastics class. But it turns out that somersaults and cartwheels aren't as easy as they look. Will Katie ever learn to land on her feet?
Shop More on Indiebound!
                 CONNECT WITH FRAN:
                   Website | Facebook | Twitter 
H. Chuku Lee – Author H. Chuku Lee teamed up with award-winning illustrator and SCBWI advisory board member Pat Cummings, to retell a classic story, "Beauty and the Beast." Jean Cocteau's film inspired them and this 18th-century French classic.

Beauty and the Beast – In this remarkable retelling of Beauty and the Beast, award-winning illustrator Pat Cummings creates an enchanted fairy-tale world flavored by the art, architecture, and culture of West Africa, while writer H. Chuku Lee stays true to the story of this beloved classic. With breathtaking palatial settings inspired by the Dogon tribe of Mali and dazzling costumes reminiscent of the clothing seen on Cummings's own trip to Africa, Beauty and the Beast becomes so much more than just a story–it's a visual and cultural experience. When her father is taken prisoner by a fearsome Beast, Beauty begs the captor to take her instead. The Beast agrees, locking her away in his palace. Though he will give her whatever her heart desires–jewels, gowns, her own living quarters–she is forbidden to leave. Over time, however, Beauty sees the gentler side of the Beast, and an unexpected bond forms. But will it be strong enough to break a curse that threatens the Beast's life?
Luann Toth – Luann Toth is Managing Editor of SLJ Reviews. A public librarian by training, she has been reviewing books for a quarter of a century and continues to be fascinated by the constantly evolving, ever-expanding world of publishing.
CONNECT WITH LUANN:
SLJ Profile
Carol Weston- Carol Weston is a writer and speaker. She is the author of For Girls Only, Private and Personal, and Girltalk (Fourth Edition) as well as four Melanie Martin novels for younger readers. She's also the "Dear Carol" advice columnist of Girls' Life. Parenting says "Carol Weston gets girls" and Newsweek calls her a "Teen Dear Abby." Of For Girls Only, USA Today wrote, "There are so many dumb advice books that it's a pleasure to find one that really works." Carol has been a guest on Today, Oprah, The View, and other shows and has spoken at many schools both as an author of novels for elementary school kids as well as an advice giver for middle and high school kids. A Phi Beta Kappa Yale graduate with an M.A. in Spanish, she can give a talk at your school in English or Spanish. She now lives in Manhattan with her husband, daughters, and feisty cat Mike.

Ava and Pip – Meet outgoing Ava Wren, a fun fifth grader who tries not to lose patience with her shy big sister. When Pip's 13th birthday party turns into a disaster, Ava gets a story idea for a library contest. But uh-oh, Ava should never have written "Sting of the Queen Bee." Can Ava and her new friend help Pip come out of her shell? And can Ava get out of the mess she has made?


Ava XOX – Love is in the air-and Ava thinks she's allergic. Valentine's Day is just around the corner, and Ava couldn't care less. That is, until a new girl, Kelli, asks out Ava's friend Chuck…and he says yes What? ? Ava is NOT okay with this. But since when does she think about boys? For the first time ever, words fail Ava. She isn't sure what she's feeling (Like? Love? Friendship? Frustration?), or what "going out" even means. After all, fifth graders aren't allowed to go anywhere by themselves, are they?
To top it off, Pip's friend Tanya is being bullied for her size. Ava wants to help-but, uh oh, it's not as easy as she imagines.
Shop More on Indiebound!
CONNECT WITH CAROL:
Website | Twitter | Facebook
Please thank my friend Jenny Bruce for allowing us to use her beautiful song!
CONNECT WITH JENNY: