Read Out Loud | BEAR SNORES ON
BEAR SNORES ON is the first book in Karma Wilson's series about Bear; a huggable and loyal friend, connoisseur of popcorn, and avid swimmer. It's that time of the year and Bear has gone to sleep for a long time. What happens when several of his woodland friends happen upon his warm lair?
Bear Snores On is a great book you can use to teach young readers about seasons, hibernation, friendship, and sharing. There are so many big lessons in one small book!
Karma Wilson's reading of Bear Snores On was filmed during Angie Karcher's Rhyming Picture Book Revolution Conference (RPBC). The purpose of the RPBC is to educate and support authors who write rhyming picture books.
KidLit TV's Read Out Loud series is perfect for parents, teachers, and librarians. Use these readings for nap time, story time, bedtime … anytime!
Parents and Educators: Click here to download free Bear Snores On activities!
Explore books written by Karma Wilson including more books about Bear!
ABOUT BEAR SNORES ON


Bear Snores On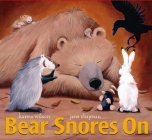 (Illustrated by Jane Chapman) – One by one, a whole host of different animals and birds find their way out of the cold and into Bear's cave to warm up. But even after the tea has been brewed and the corn has been popped, Bear just snores on! See what happens when he finally wakes up and finds his cave full of uninvited guests — all of them having a party without him.
Karma Wilson grew up an only child of a single mother in the wilds of North Idaho. Way back then (just past the stone age and somewhat before the era of computers) there was no cable TV and if there would have been Karma could not have gotten it. TV reception was limited to 3 channels, of which one came in with some clarity. Karma did the only sensible thing a lonely little girl could do…she read or played outdoors.
Playing outdoors was fun, but reading was Karma's "first love" and, by the age 11 she was devouring about a novel a day. She was even known to try to read while riding her bike down dirt roads, which she does not recommend as it is hazardous to the general well being of the bike, the rider, and more importantly the book. Her reading preference was fantasy (C.S. Lewis, Terry Brooks, etc…) and historical fiction (L.M. Montgomery, Laura Ingalls Wilder, etc…). Those preferences have not changed much.
Karma never considered writing as a profession because her mother was a professional writer which made it seem like boring and mundane work. At the age of 27 she realized that she still loved well written children's books of all kinds, from picture books to young adult novels. By that time Karma was a wife and the mother of three young children. Trips to the library with her children were a combination of emotions…when they got a good book there was fun to be had by all, but so many of the books weren't what her children wanted to listen to.
Read more about Karma, here.
CONNECT WITH KARMA WILSON
Website
Facebook
Goodreads
Twitter
ABOUT JANE CHAPMAN
Jane Chapman writes and illustrates children's books. Her work is published under her real name, and Jack Tickle; her pseudonym.
CONNECT WITH JANE CHAPMAN
Website
Facebook
Twitter
CONNECT WITH KidLit TV
Facebook Page
Facebook Group
Instagram
Newsletter
Pinterest
Twitter
YouTube
Read Out Loud
Executive Producer: Julie Gribble
Like it? Pin it!