Podcast: Play in new window | Download
Subscribe: RSS
Podcast Ep 11: Steve Light
Have you seen my monster? If you haven't we know author Steve Light has!
Steve's Have You Seen My Dragon? and Have You Seen My Monster? are perfect books for preschoolers learning numbers and shapes. Zephyr Takes Flight is a fanciful look at the adventures of an inquisitive little girl whose imagination lifts her to new heights. Like all good teachers, Steve makes school seem more like fun than work.
"Librarians are amazing people." – Steve Light
Steve credits his elementary school librarian with helping to cultivate his love of stories and art. As a child, he found solace within the confines of his school library. After spending many days peering out a window, the librarian reached out to ask if he had any particular interests. From then on, Steve would find a stack of books waiting for him on the windowsill whenever he visited the library.
Stay tuned as StoryMakers host Rocco Staino delves into Steve Light's creative process. What's Steve's preferred drawing tool? Why did he choose to tell stories in the first place, and how does it relate to his profession as a teacher? Also, find out how he's contributed to The Eric Carle Museum of Picture Book Art.
ACTIVITY KITS  AND MORE (click to download)
Have You Seen My Monster?
Have You Seen My Dragon?
Kindergarten Students Create a Counting Book Inspired by Have You Seen My Dragon
Have You Seen My Monster? – In a follow-up to Steve Light's highly praised "Have You Seen My Dragon?, "the county fair is filled with shapes and somewhere among them a monster is waiting to be found.
A little girl gallivants through a county fair, searching for her furry friend. Readers will surely spot the friendly monster as well as twenty shapes, identified here by their proper names trapezoids, ellipses, kites, and more hidden among iconic fair attractions from the fun house to the Ferris wheel. Maybe the monster is judging the pies? Or perhaps he's at the monster-truck rally? Youngsters will be so mesmerized by Steve Light's masterful pen-and-ink illustrations, decorated with vivid splashes of color, they won't even realize they've learned how to spot a nonagon while looking for a monster.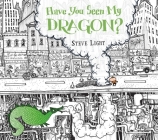 Have You Seen My Dragon? – Enter a fascinating, ornately drawn cityscape and help a boy find his dragon while counting objects from hot dogs to traffic lights.
In the heart of the city, among the taxis and towers, a small boy travels uptown and down, searching for his friend. Readers will certainly spot the glorious beast, plus an array of big-city icons they can count. Is the dragon taking the crosstown bus, or breathing his fiery breath below a busy street? Maybe he took a taxi to the zoo or is playing with the dogs in the park. Steve Light's masterful pen-and-ink illustrations, decorated with meticulous splashes of color, elevate this counting book (numbers 1 20) to new heights. Maybe the dragon is up there, too


Zephyr Takes Flight – Zephyr is a girl who loves airplanes. She draws pictures of them, makes them out of paper, builds them out of junk, and hopes one day to fly one of her own. But when Gramma, Daddy, and Mom are too busy to play airplane with her, Zephyr's excess enthusiasm gets her sent to her room — where she discovers a secret door that leads to the most wondrous place she's ever seen! Lovers of flying machines and gadgets, along with adventurers of all kinds, will be buoyed by this lighthearted tale of a little girl who finds her wings.


The Christmas Giant – Humphrey is a giant, and Leetree, his best friend, is an elf. Together they love making wrapping paper for all of Santa's presents. But this year Santa has asked them to grow a Christmas tree, and the pair couldn't be more excited! They take great care with their project, planting and watering, snipping and pruning. Finally, the tree is wrapped and ready, and Humphrey and Leetree set off to deliver it. But when disaster strikes, the giant and the elf must come up with a way to make things right. From a small idea comes a big plan—and a surprise no one in Christmastown will soon forget!
Watch the Video for this Episode HERE!
CONNECT WITH STEVE
Website
Instagram
Twitter
StoryMakers
Host: Rocco Staino
Executive Producer: Julie Gribble
Producer: Kassia Graham
CONNECT WITH KIDLIT TV
Facebook Group
Facebook Page
Pinterest
Twitter
YouTube
Get Your BackStage Pass to KidLit.TV