Read Out Loud | Steve Light Reads 'Have You Seen My Dragon?'
Have You Seen My Dragon is Steve Light's ode to city living. A boy solicits help from readers as he searches for his slithery, green dragon. The dragon hops around the city and takes readers on a counting journey. Adults and children alike will love the detailed artwork touched by bursts of color! Don't be afraid to count along as Steve reads Have You Seen My Dragon on Read Out Loud.
https://youtu.be/6OFBI1KM8Bs
KidLit TV's Read Out Loud series is perfect for parents, teachers, and librarians. Use these readings for nap time, story time, bedtime … anytime!
LIKE IT? PIN IT!
ABOUT HAVE YOU SEEN MY DRAGON?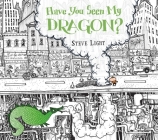 Have You Seen My Dragon?
Written and illustrated by Steve Light
Published by Candlewick Press
Enter a fascinating, ornately drawn cityscape and help a boy find his dragon while counting objects from hot dogs to traffic lights. In the heart of the city, among the taxis and towers, a small boy travels uptown and down, searching for his friend. Readers will certainly spot the glorious beast, plus an array of big-city icons they can count. Is the dragon taking the crosstown bus, or breathing his fiery breath below a busy street? Maybe he took a taxi to the zoo or is playing with the dogs in the park. Steve Light's masterful pen-and-ink illustrations, decorated with meticulous splashes of color, elevate this counting book (numbers 1 20) to new heights. Maybe the dragon is up there, too.
ABOUT STEVE LIGHT
Steve Light is the author and illustrator of several books for children. When he isn't writing, he's teaching pre-k students in New York City. Steve is a collector of fountain pens; he has more than 80. When Steve isn't writing and illustrating he can be found creating models — some of which are inspired by his books –, or carving storybooks; wood dolls and props that fit in a box, which can be used to tell stories. Steve lives in New York City with his wife.
CONNECT WITH STEVE LIGHT
Website | Instagram | Twitter
CONNECT WITH KidLit TV
Facebook Group | Facebook Page | Instagram | Newsletter | Pinterest | Twitter | YouTube
Read Out Loud
Executive Producer: Julie Gribble
This post contains affiliate links.