The Kids Are All Write: How to Make a Comic
By Jamie Nanfara
Artists all over the world are sketching in ink as part of the #Inktober drawing challenge. So this month, we want you to bring illustrations into your writing! We are making comics to celebrate #Inktober. It only takes five easy steps to make a comic, so grab paper and a pencil and tell your story!
Step 1: Pick a character
Who is your story about? Is your character a human or a fierce lion?
Step 2: Sketch your character
Do a few sketches of your character on scratch paper. Draw him/her happy, sad, and angry. What does he/she look like running or jumping? Make quick sketches of your character doing different things.
Step 3: Think of a plot
What does your character want? Plan your story by giving your character a hope, want, or goal. Then, put something in the way so that your character has to struggle before getting what they want. Use the sentence below to help you plan your story.
My character wants _____________________ but _____________________ so_____________________.
Example: Ted the Dragon wants a friend but everyone is scared of his fire breath so he lets them roast marshmallows in his fire breath!
Step 4: Plan your panels
Before you start drawing, plan how your story will go by saying it out loud. Point to each panel and plan what your picture will look like. Don't forget to think about dialogue – what will your character be saying in each scene?
Step 5: Bring your comic to life!
Download our comic worksheets and tell your story! Draw the pictures and add speech bubbles. Use colored pencils or crayons to add color to your comic.
Download your comic worksheets HERE!
Need some inspiration? Check out these great picture books that feature graphic elements such as panels and speech bubbles!
Want to Learn more?
Watch Ready Set Draw! BAD KITTY Makes Comics & You Can, Too!

Like it? Pin it!
ABOUT THE BOOKS


Odd Duck
Written by Cecil Castellucci, Illustrated by Sara Varon
Theodora is a perfectly normal duck. She may swim with a teacup balanced on her head and stay north when the rest of the ducks fly south for the winter, but there's nothing so odd about that.Chad, on the other hand, is one strange bird. Theodora likes him, but she can't overlook his odd habits. It's a good thing Chad has a normal friend like Theodora to set a good example for him.

I Am Invited to a Party!
Written and illustrated by Mo Willems
Published by Hyperion Books for Children
In I Am Invited to a Party! Piggie is invited to her first party. She doesn't know what to wear so she asks her best friend Elephant for help. Piggie will try on all sorts of zany outfits before finally arriving at the party for a hilarious surprise.

The Pigeon Needs a Bath!
Written and illustrated by Mo Willems
Published by Disney-Hyperion
The Pigeon really needs a bath except he is not so sure about that. Besides, he took a bath last month. Maybe. It's going to take some serious convincing to try and get the Pigeon to take the plunge.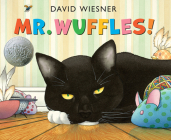 Mr.Wuffles
Written and illustrated by
Published by Clarion Books
When the space visitors dodge the cat and take shelter behind the radiator to repair the damage, they make a host of insect friends. The result? A humorous exploration of cooperation between aliens and insects, and of the universal nature of communication involving symbols, cave paintings, and gestures of friendship.
CONNECT WITH KidLit TV
Facebook Group | Facebook Page | Instagram | Newsletter | Pinterest | Twitter | YouTube
Executive Producer: Julie Gribble