Ready Set Draw! Tom Booth draws WHO WINS?
In this episode of Ready Set Draw discover how Tom Booth creates his characters from WHO WINS? As you're watching the video try and guess which character Tom Booth is drawing!
Did you, your child, or a student draw their own comic after watching this episode? Share your images with us!  Post them on our KidLit TV Facebook page OR use the hashtag #ReadySetDraw on Facebook, Instagram, or Twitter so we can find you! We can't wait to see what you've made!
SUPPLIES
Paper (a large sheet of blank paper is recommended)
Black marker
Watercolor
LIKE IT? PIN IT!
ABOUT THE BOOK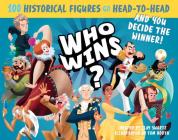 WHO WINS?
Written by Clay Swartz; illustrated by Tom Booth
Published by Workman Publishing
Mixing and matching 100 historical figures in 50 competitive categories, from Ping-Pong to climbing Mount Everest, Who Wins? turns history into a compelling game, which means kids learn while having fun in the process.
ABOUT TOM BOOTH
Tom Booth is a character designer and illustrator who has worked in both animation and publishing with the likes of Scholastic, Simon & Schuster, Workman Publishing, and Nicktoons. Tom made his earliest marks — sometimes on his parents' antique kitchen table — growing up in Pennsylvania. Now living in Brooklyn, NY, Tom is currently at work on several picture books on a table all his own.
CONNECT WITH TOM BOOTH
Website | Facebook | Pinterest
CONNECT WITH KidLit TV
Facebook Group | Facebook Page | Instagram | Newsletter | Pinterest |  Twitter | YouTube
Ready Set Draw!
Executive Producer: Julie Gribble 
Did you like this article? Leave a comment for us below.
We love to hear from YOU!