StoryMakers with Peter H. Reynolds THE DOT
ALL ABOUT INTERNATIONAL DOT DAY
Did you know over 180 countries participate in International Dot Day? Learn this fact and more as StoryMakers host Rocco Staino sits down with Peter H. Reynolds, an award-winning author/illustrator and the inspiration behind International Dot Day.  In this episode, Peter talks about the colorful characters in his "Create-trilogy", which includes The Dot, Ish, and Sky Color and ways you can "make your mark" in the community on September 15th!
Rocco and Peter also discuss Peter's work as illustrator of The Water Princess written by Susan Verde and Georgie Badiel. Based on a true story, The Water Princess sheds light on the scarcity of clean drinking water in many countries. Learn how the book helps to raise money and awareness about this really important global problem!
Did you know Peter has over 400 ideas for new projects? Watch the episode to learn what keeps him inspired and where he stores his ideas! (Hint: He has a unique journal!) Plus get a super sneak preview of Happy Dreamer – a lyrical story of optimism and dreaming big!
Join Peter on his quest to spread creativity and self-expression! How will you make your mark?
Watch Peter's Ready Set Draw-ish! and make YOUR mark!
LIKE IT? PIN IT!
ALL ABOUT Peter's CREATRILOGY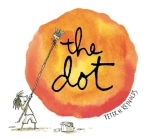 The Dot
Written and illustrated by Peter H. Reynolds
Published by Candlewick Press
Vashti is not an artist. She jabs at a blank sheet of paper to make an unremarkable and angry mark. "There," she says. That one little dot marks the beginning of Vashti's journey of surprise and self-discovery.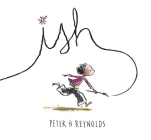 Ish
Written and illustrated by Peter H. Reynolds
Published by Candlewick Press
Ramon loves to draw and It makes him happy but, in one split second everything changes. A single reckless remark by Ramon's older brother, Leon, turns Ramon's carefree sketches into joyless struggles. Luckily for Ramon his little sister, Marisol, sees the world differently. She opens his eyes to something a lot more valuable than getting things just "right."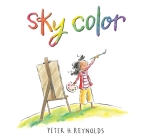 Sky Color
Written and illustrated by Peter H. Reynolds
Published by Candlewick Press
Marisol loves to paint. So when her teacher asks her to help make a mural for the school library, she can't wait to begin! But how can Marisol make a sky without blue paint?
MORE Books by Peter!

The Water Princess

Written by Susan Verde, illustrated by Peter H. Reynolds
Published by G.P. Putnam's Sons Books for Young Readers
Princess Gie Gie's kingdom is a beautiful land. But clean drinking water is scarce in her small African village. Gie Gie cannot bring the water to her kingdom. Every morning, she rises before the sun to make the long journey to the well. Instead of a crown, she wears a heavy pot on her head to collect water.  And she dreams. She dreams of a day when her village will have cool, crystal-clear water of its own.

Going Places
Written by Paul A. Reynolds, illustrated by Peter H. Reynolds
Published by Atheneum Books for Young Readers
It's time for this year's Going Places contest! Time to build a go-cart enter the race and win. Each kid grabs an identical kit and starts to build their go-cart! Everyone but Maya. Who said it "had" to be a go-cart? And who said there's only "one" way to cross the finish line?
ALL ABOUT PETER H. REYNOLDS
Peter H. Reynolds is a New York Times best-selling illustrator who has created many acclaimed books for children. In addition to his Creatrilogy The Dot, Ish,  and Sky Color he is the author-illustrator of Rose's Garden, The North Star, and So Few of Me. Peter H. Reynolds helps inspire children find their creative side and dream big through his art and writing!
Say "Hi" to PETER H. REYNOLDS
Website |  Facebook | Twitter | Instagram
ALL ABOUT FABLEVISION
FableVision Studios is a multi-media production studio that  develops an array of  media that inspire, teaches, and move people to action! FableVision is dedicated to helping ALL learners reach and discover their true potential.
Website | Facebook | Twitter | Instagram
ALL ABOUT BLUE BUNNY BOOKS and TOYS
Blue Bunny Books and Toys is the perfect place to stop by and experience creativity with your family and friends. Shop for some of your favorite books, join story time every Monday and Tuesday and take part in all kinds of creative activities and events, all at Blue Bunny Books and Toys.
Website | Facebook | Twitter | Instagram
CONNECT WITH KidLit TV
Facebook Page | Facebook Group | Instagram | Newsletter | Pinterest | Twitter | YouTube
Did you like this article? Leave a comment for us below.
We love to hear from YOU!