Podcast: Play in new window | Download
Subscribe: RSS
As a winter storm rages outside, deep in his warm cave, Bear sleeps soundly. Little forest creatures discover the cozy cave and begin to make themselves at home, building a fire, popping corn and brewing tea. Bear seems to be able to sleep through nearly anything — but what will happen if he wakes? Find out on this podcast episode of Read Out Loud as Karma Wilson reads her book, BEAR SNORES ON.
ABOUT THE BOOK

Bear Snores On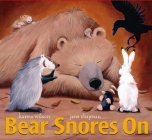 (Illustrated by Jane Chapman) – One by one, a whole host of different animals and birds find their way out of the cold and into Bear's cave to warm up. But even after the tea has been brewed and the corn has been popped, Bear just snores on! See what happens when he finally wakes up and finds his cave full of uninvited guests — all of them having a party without him.
Watch Karma's Read Out Loud Episode!
CONNECT WITH KARMA WILSON
Website
Facebook
Goodreads
Twitter
CONNECT WITH JANE CHAPMAN
Website
Facebook
Twitter
CONNECT WITH KidLit TV
Facebook Page
Facebook Group
Instagram
Newsletter
Pinterest
Twitter
YouTube
Read Out Loud
Executive Producer: Julie Gribble