Read Out Loud | THE JUDGE
"The truth isn't always the most likely scenario," is a maxim taught in law school — and one of which the main character in this winning book should have taken more heed. On this episode of Read Out Loud, Rocco reads a picture book classic from his own collection. Caldecott Honor Book, THE JUDGE, is the story of a very grumpy magistrate who refuses to listen. Don't worry, he gets his "just dues" in the end.
ABOUT THE BOOK
THE JUDGE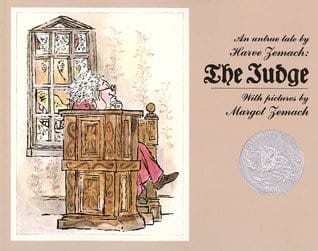 Written by Harve Zemach; illustrated by Margot Zemach
Anxious prisoner after anxious prisoner approaches the bench and tries to warn of impending danger. The fiery old Judge, impatient with such foolish nonsense, calls them scoundrels, ninnyhammers, and throws them all in jail. But in the end, Justice is done–and the Judge is gone. Head first!
Harve Zemach's cumulative verse tale is so infectious that children won't be able to avoid memorizing it. And Margot Zemach's hilarious pictures are brimming with vitality as well as color.
ABOUT Margot & Harve
Margot Zemach (1931-89) was born in Los Angeles, California. She began illustrating stories by her husband, Harve, in 1959, and their subsequent collaborations led to many enduring children's books, including The Judge: An Untrue Tale, a Caldecott Honor Book; A Penny a Look, an ALA Notable Book; and Duffy and the Devil, recipient of the Caldecott Medal.
CONNECT WITH KidLit TV
Facebook Group | Facebook Page | Instagram | Newsletter | Pinterest | Twitter | YouTube
Executive Producer – Julie Gribble
Edited by: Ryan Mulhern