Sara O'Leary's OWLS ARE GOOD AT KEEPING SECRETS: AN UNUSUAL ALPHABET isn't your typical abecedary. While children will recognize many of the animals introducing letters of the alphabet (alligators for A, foxes for F, giraffes for G), others such as iguanas and meerkats may be exciting and new. Through his illustrations, Jacob Grant expertly highlights another unique detail of the book, which is that each animal has a line explaining a quirk of its behavior.
For instance, did you know chipmunks love to stay up past bedtime? Or that baby bears want their mothers to kiss it better when they get hurt? The trailer homes in on the hilarity and charm of the book with a cheerful piano composition and animation, showing curious young chipmunks frolicking as an older one sips a cup of coffee nearby and the moon looks on, or owls stretching a feathered wing to their beak to signal hushing for a kept secret.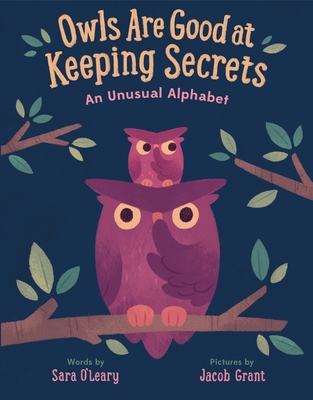 In her Booklist review, Edie Ching explains, "The end pages have full disclosure, with each animal standing by its letter and an added opportunity for conversation or a memory game." Whether by relating to narwhals who can be happy all on their own or iguanas who sometimes get homesick at sleepovers, children may see themselves reflected in many of the colorful personalities featured in this book.
Order OWLS ARE GOOD AT KEEPING SECRETS on Amazon | Shop your local indie bookstore.