Book themed costumes are in high demand and today I bring you a few new must-read children's books and outfits to match. These kid lit outfits are inspired by fantastic small businesses that deserve support for their commitment to making the world a more sustainable and equitable place.
DRESS LIKE A GIRL + Princess Awesome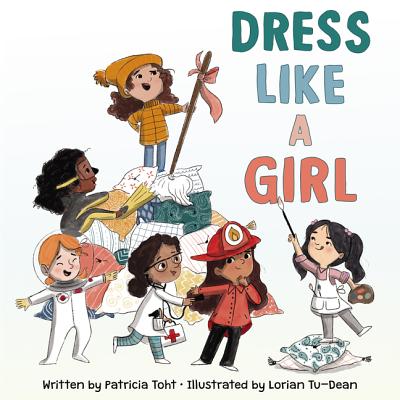 DRESS LIKE A GIRL by Patricia Toht is an uplifting new picture book and with a variety of diverse characters who are living their best life at a slumber party. The girls begin to share their interests ranging from sports to science to politics.
The girls conclude that if a lady should wear white in the summertime, then how about donning a spacesuit? If team colors are apropos at sporting events, why not wear helmets and play ball?
This book is sure to inspire any young girl; instilling the idea that the best way to dress like a girl is the way that makes you feel most like YOU!
Purchase DRESS LIKE A GIRL on Amazon | Shop your local indie bookstore.
Pair this book with these career-themed options from Princess Awesome. This brand believes that if a girl would prefer to skip the "princess" and stick with the "awesome," she deserves some dress options that feature a range of colors and topics. Furthermore, all the dresses and leggings have pockets for an outdoor picnic read aloud of DRESS LIKE A GIRL after rock collecting!
We are Princess Awesome because butterflies are awesome and so are airplanes. Because monsters are awesome and so are twirly skirts. Because girls are awesome and girls get to decide what it means to be girly.
BREATHE WITH ME: USING BREATH TO FEEL STRONG, CALM AND HAPPY + The Puff Cuff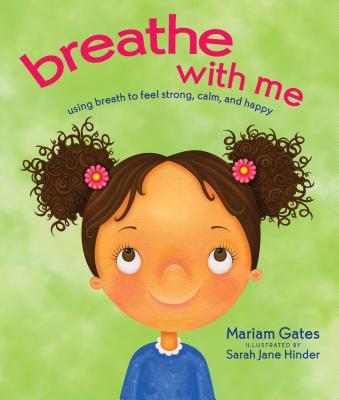 When you're mad or worried or can't wake up in the morning, what can you do? Use the amazing superpower that you already have—breathing.
BREATHE WITH ME is the latest in the series from the bestselling creators of Good Night Yoga. It teaches kids fun and easy breathing practices based on the proven methods of yoga and mindfulness meditation.
For example:
When something makes you mad or even feels unfair,
try this counting breath and you'll feel calmer there.
Purchase BREATHE WITH ME on Amazon | Shop your local indie bookstore.
Pair this beautiful book with The PuffCuff. The PuffCuff Hair Clamp is designed to GRASP your hair, lock into its texture and hold hair in a puff style. The unique teeth are designed to hold the clamp in place, NOT to glide through the hair like a comb or the old "banana clip".
Even though the look of the PuffCuff is similar to the old "banana clip" it DOES NOT function the same. If you don't have curly hair, put this at the top of your gift list for those who do. The PuffCuff is life-changing for the people who want to rock two adorable puffs while doing yoga after a read-aloud of BREATHE LIKE ME.
View this post on Instagram
DEAR BLACK BOY + Black Books Matter Pin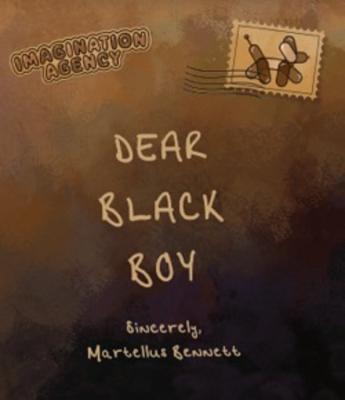 Former NFL Star Martellus Bennett wrote this book that encourages Black boys to dream beyond the stereotypes. DEAR BLACK BOY is a letter of encouragement to all the brown-skinned boys around the world who feel like sports are all they have.
Martellus Bennett says "that the whole idea is we have to give Black boys the space to dream and allow them to dream the dreams they want and not have society dream the dreams for them."
Bennett adds, "The NFL is 65 percent Black, the NBA is 75 percent Black, the tech industry is seven percent Black. Those numbers are so skewed that it's just crazy."
It is a reminder to Black boys that are more than athletes, more than a jersey number, more than a great crossover or a forty-time, that the biggest game that they'll ever play is the game of life, and there are people rooting for them off of the courts and fields, not as athletes, but as future leaders of the world.
Dear Black Boy Now What? Every ball will eventually go flat but that doesn't mean your life has to flatline. @theimaginationagency #theimaginationagency #DearBlackBoy https://t.co/wzIC0lhmDM pic.twitter.com/GwsdmSUNXF

— Martellus Bennett (@MartysaurusRex) February 1, 2019
Purchase DEAR BLACK BOY on Amazon | Shop your local indie bookstore.
To pair with the book, grab one of these gorgeous Black Books Matter pin from Mahogany Books either online or at the DC bookstore location. DEAR BLACK BOY along with this high-quality pin are the perfect pairing in order to celebrate Black History Month with ALL kids.
VROOM VROOM + Groundbreaker Construction Dress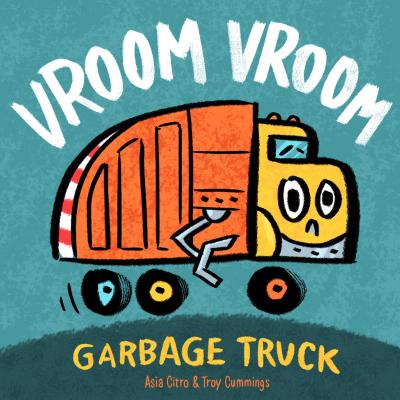 Board books with sound effects, what is not to love? VROOM VROOM GARBAGE TRUCK is a delightful book to engage kids without any pressure and the perfect opportunity to learn about onomatopoeia.
Sound effects = words is a lightbulb moment I love seeing with students. This board book is sure to be added to the regular rotation for repeat truck loving fun.
Purchase VROOM VROOM GARBAGE TRUCK on Amazon | Shop your local indie bookstore.
Pair this wonderful book with this sassy and strong "Groundbreaker" Construction Truck dress or check out the leggings/headband combo.
Other Recommendations:
New School Year Must-Have Children's Books
Celebrating Curly-Haired Girls in Picture Books
Teaching Kids to Read Ages 0-5
For more book recommendations and other wonderful resources, connect with KidLitTV on Instagram | Twitter | Facebook.