I recently finished a book by the infamous  TV producer Shonda Rhimes called THE YEAR OF YES: How to Dance It Out, Stand In the Sun and Be Your Own Person. It was a page turner, tear jerker, shout out loud and get up and move kinda book. I have so much respect for the way Shonda shared her story with humility, bravery, and admitted to the hard days as well as celebrating the good days.
The Year of Yes: Kid Lit Edition
I know that kids need these moments to share their fears as much as adults, so today I bring you a few of my favorite books to make 2019 the year of yes.
Saying YES to knowing their worth. YES to exercising those bravery muscles without worrying about perfection. YES to amplifying voices instead of worrying about competition. The shine theory is REAL friends.
WHEN YOU ARE BRAVE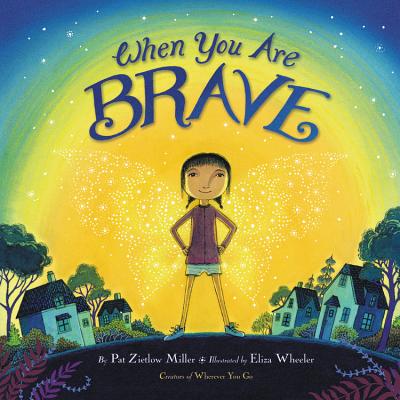 WHEN YOU ARE BRAVE is not a book that is trying to solve problems. The intention behind Pat Zeitlow Miller's wonderful picture book is to inspire. It allows kids the room and space to find courage within themselves. A HARD thing to learn but infinitely changes the course of a child's life if they can master this skill. Readers are shown various instances when one might have to be brave and make it their year of yes. But like all kids, they have to push past the feeling of intimidation.

This book aims to take away the stigma of fear and become more comfortable with normal fears that nearly everyone experiences at one time or another. Bravery is a muscle. The more you exercise it, the stronger the bravery muscle gets and will take less work to exercise it again.
This lesson will resonate deeply with kids at the age of learning so many new skills with their growing bodies. A book for kids and adults who have ever felt too small, too quiet, too tired, or not enough.
Connect on Twitter: Author Pat Zeitlow Miller | Illustrator Eliza Wheeler | Little Brown Young Readers
YASMIN IN CHARGE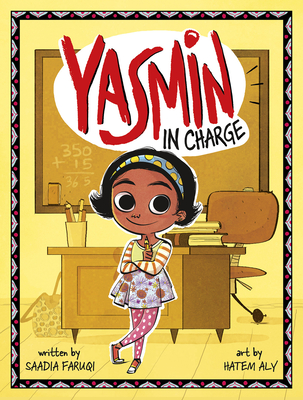 YASMIN IN CHARGE is a collection of four kind and happy stories that pair vibrant illustrations. Yasmin's never-give-up attitude to show young readers that optimism and creativity help any situation.

This sweet collection of stories keeps young readers' attention with both Yasmin's actions and the brightly colored, jump-off-the-page illustrations. The focus is on good intentions and persistence. It's a wonderful showcase for Pakistani culture, with Urdu words and traditional foods sprinkled throughout the stories.
Yasmin is relatable; the problems she's solving are just right for readers. Teachers and families can use this book to talk about role reversals as well as a great way to use cooking to teach literacy skills. Check out Yasmin's fabulous series below.
Connect on Twitter: Author Saadia Faruqi | Illustrator Hatem Aly | Capstone Publishing
RAISE YOUR HAND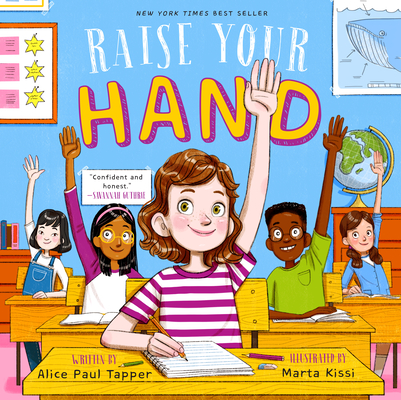 In RAISE YOUR HAND, sixth-grader Alice Paul Tapper notices that when the teacher asks a question, she and other girls often keep their hand down, afraid of making a mistake. Alternatively, she observes that boys seem to have more confidence and less trouble offering an answer, whether it's right or wrong. She brings this up at a meeting of her Girl Scout troop. The other girls agree that this happens in their classrooms too.
Alice thinks about how Scouts earn badges or patches for doing brave things, like canoeing. She meets with the Girl Scouts council and they come up with the idea of a Raise Your Hand pledge and patch program, and she goes on TV to talk about it. The idea catches on, and Girl Scout troops around the country start asking to be part of the program. Alice is the 11-year-old daughter of CNN anchor Jake Tapper.
This lovely story make readers think big and take action in their every day lives to change the world even though they are "just a kid". Kids should close the cover of this book knowing they are never too little to make a difference.
Connect on Twitter: Raise Your Hand | Workshop Books | Penguin Kids
SAY SOMETHING!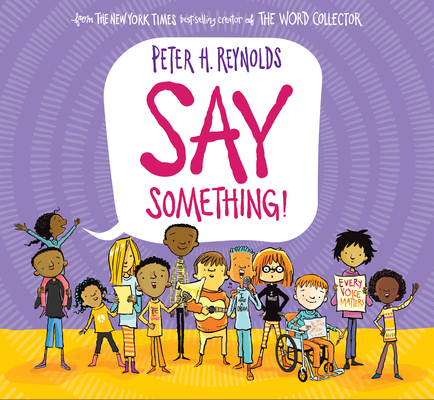 SAY SOMETHING! insists that "the world needs your voice" and challenges readers to say something "in so many ways. It encourages kids to assess the ways they feel most comfortable expressing themselves. Furthermore they can reflect on other ways they might be willing to try. Each page offers an example of creative ways to say something.
From the personal to the political, there are lots of examples of diverse kids expressing their feelings, beliefs, opinions, and even discoveries. My favorite is when a girl at a microscope gets a "brilliant idea" and shouts, "Eurkea!" The end papers are not to be missed with various daily affirmations children can use.
Connect on Twitter: Peter H. Reynolds | Scholastic
Acknowledging Privilege in Positive Messages
These books are full of positive, nuanced messages. They make for great read alouds and mentor texts to jump-starting conversation and discussions even with older kids. However, it does need to be said that there is a level of privilege in "being the change". There are kids who have incredible talents and deeply impactful stories to share, but due to systemic oppression, their voices are silenced or ignored. This book would be a great teachable moment to discuss privilege as you attempt to encourage "the year of yes".
CONNECT WITH KidLit TV
Facebook Group | Facebook Page | Instagram | Newsletter | Pinterest | Twitter | YouTube
This guest post is by Bethany Edwards. Bethany is an international elementary educator as well as a reading and literacy specialist. She blogs on various aspects of multicultural education from a global perspective at Biracial Bookworms.
Connect with Biracial Bookworms
Instagram | Twitter | Pinterest | Facebook Group | Facebook Page | Newsletter