Once again there has been a significant increase in the number of LGBTQ people who experienced discrimination based on sexual orientation or gender identity. It is paramount that we fight back with inclusion by celebrating the best Kid Lit for Pride Month.
These new titles will promote awareness of children's books that uplift LGBTQIA+ voices, history, and culture. Let's make the first week in June unforgettable as we stand up and speak out for equality for all.
This Day in June by Gayle E. Pitman, illustrated by Kristyna Litten, is the most joyful celebration of the Pride parade in a lovely little rhyming poem. It also has several pages of talking points and explanations grouped into ages for talking to kids to about LGBTQ issues (1/2) pic.twitter.com/YrJzUNxapZ

— Moïra Fowley-Doyle (@moirawithatrema)

Picture Books for Pride Month
PRINCE & KNIGHT
Young readers will love going beyond the average fairy tale story where not every prince would like to marry a princess. This queer-friendly fairy tale will be very popular with kids as they dive into the story of the PRINCE & KNIGHT who fall in love while defeating a terrifying dragon.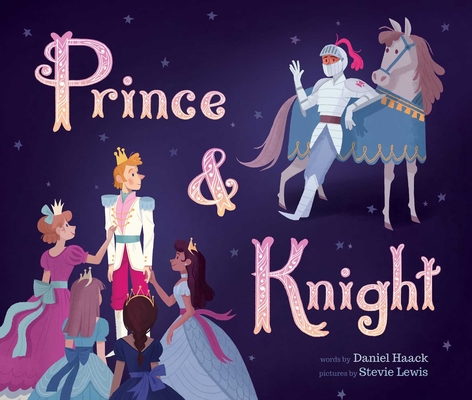 PRINCE & KNIGHT weaves the tale of a lovely friendship that blossoms into love. The artwork by Stevie Lewis is so absolutely gorgeous that kids will spend hours pouring over the pages time and time again while preparing to celebrate Pride Month. P.S. To answer your question; yes, the MAIDEN AND THE PRINCESS is also available.
Fainting right now at @ChelseaClinton holding #PrinceAndKnight at the @GLAAD Awards last night ? pic.twitter.com/Fg59gbMJ8M

— Daniel Haack (@DanielHaack)

Connect on Twitter: Author Daniel Haack | Publisher Little Bee Books
JULIAN IS A MERMAID
The most brilliant part of the book is the theme: all kids have secret dreams. IN JULIAN IS A MERMAID, Julián shares his secret dream (and identity) with his abuela. However, when he first tries dressing as a mermaid, he is alone as he doesn't know exactly how his Abuela will react.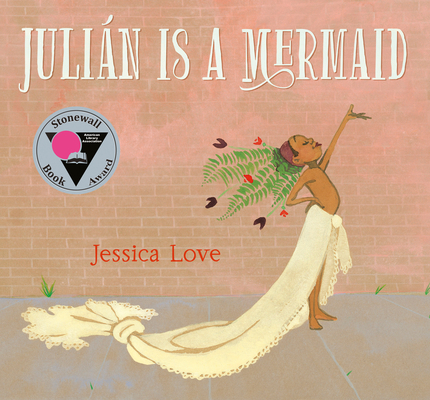 We read on to see an outpouring of support as his abuela reacts by bringing Julián to the Coney Island parade where everyone's dressed in similar costumes, The illustrations of the parade depicts the vibrant community where everyone is brown-skinned. The story is told mostly through the art of a critically needed story about the real history of one of New York City's best traditions at Coney Island.
Connect on Twitter:  Author/Illustrator Jessica Love | Publisher Candlewick Press
SEWING THE RAINBOW
In SEWING THE RAINBOW, children will not only get to see the creativity behind the LGBT rainbow flag, but also what life was like for artist and craftsman Gilbert Baker. SEWING THE RAINBOW reveals the journey from Gilbert's small, gray, flat Kansas hometown where he helped his grandma sew and created his own art whenever he could.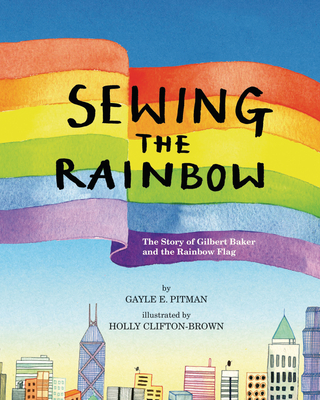 Kids will appreciate the risk-taking Gilbert had to do after being drafted into the army and moving to San Francisco, a place he could finally be himself and feel free. Gilbert's love of design and fashion inspired him to take action during the gay rights movement of the 1970s. Gilbert's story "unfolds just like the flag he created: in a riot of color, joy, and pride."
— Magination Press (@MaginationPress)

Teachers can also use this book as a mentor text as it includes a Reader Note that provides 3 pages of in-depth historical context and origins of the flag and further exploration of Gilbert Baker's life. A perfect kick off book to celebrating kid lit for Pride Month.
Connect on Twitter:  Author Gayle E. Pitman | Illustrator Holly Clifton-Brown | Publisher Magination Press
Middle Grade Books for Pride Week
HURRICANE CHILD
In HURRICANE CHILD, 12-year-old Caroline's mother disappears after a hurricane rips through her home in the U.S. Virgin Islands. Left with a dad who resents her and a school full of bullies, Caroline sets her mind on finding her mother. Her luck changes when the new girl at school becomes her best friend. Together Caroline and Kalinda set out to uncover the truth about Caroline's family and eventually friendship blossoms into love.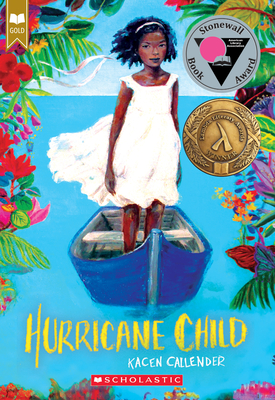 This is a story about love without boundaries. It highlights the reality of complicated love; love that doesn't follow your expectations. The author does a masterful job of of revealing love honestly to young readers while developing two rich and complex girl characters who are strong, smart, independent, and patient.
Teachers; prepare for a line up in your classroom for students get their hands on the book once you have  hooked them with the first couple chapters in a read aloud. Lastly, don't miss these events for Pride Week 2019.
I'm really looking forward to celebrating Pride with @tehlorkay @Abdaddy and @AngeloSurmelis… and I hope you can join us! ?? pic.twitter.com/FPfkSQpqOw

— Kacen Callender (author formerly known as Kheryn) (@kacencallender)
Connect on Twitter:  Author Kacen Callender | Publisher Scholastic Press
ELLE OF THE BALL
Stories of girl athletes are still sorely lacking in children's literature so ELLE OF THE BALL is a welcome addition to the middle grade literary canon.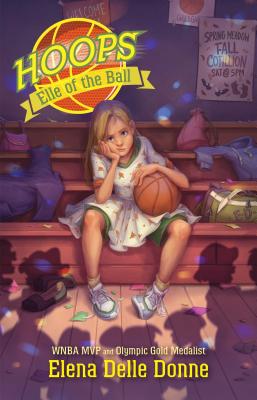 Author Elena Donne is a professional WNBA player, and who better than to write on the ups and downs of life as a female athlete.  The story is a mix of practice drills and game play and a plot that many girls who participate in competitive sports will connect with.
Really enjoyed chatting with @TaylorRooks for her new @BleacherReport show! Check out the full episode: https://t.co/Vg0l0cPNYn pic.twitter.com/cyIl4r1l7o

— Elena Delle Donne (@De11eDonne)

The charming main character Elle has loved basketball her entire life. However, a particularly big growth spurt wreaks havoc with her usually high level of coordination and stellar shooting skills. Elle struggles to keep her #1 spot on the team. Meanwhile, she is navigating having to buy a cotillion dress. This is a problem since she can't find a dressmaker who designed anything remotely fashionable for girl who is 6-feet-tall. Furthermore, the boys in her class whom she towers over aren't lining up to escort her either.
*ELLE OF THE BALL is the first book in the Hoops series.
Connect on Twitter: Author Elena Delle Donne | Publisher Simon & Schuster 
MODERN HERSTORY: Stories of Women and Nonbinary People Rewriting History
MODERN HERSTORY  is a compilation of 60 incredible girls, women & nonbinary people (predominately of color) who should be highlighted in our history books, however whom most will unfortunately be passed over. These girls and womxn who have made an impact on the world, both past and present, are each profiled with a beautiful comic-style illustration that gives each a superhero vibe.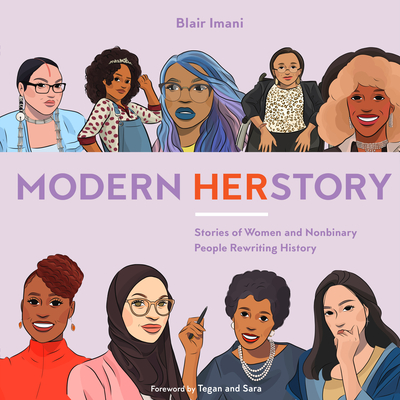 This is a jam packed book, so it will be best enjoyed as a coffee table book for adults to peruse one story at a time.  As for kids, they can read sections at bedtime or in a classroom as a history/language arts group project for kids to choose one icon from the book to research more about. Moreover, young will love learning about change makers their own age such as Taylor Richardson. MODERN HERSTORY is my top choice of books to be enjoyed during Pride Month and beyond.
View this post on Instagram
Connect on Twitter:  Author Blair Imani | Illustrator Monique Le | Publisher Ten Speed Press
The Rainbow Book List, sponsored by the American Library Association, is a curated bibliography highlighting books with significant gay, lesbian, bisexual, transgender, or queer/questioning content, for children and youth. Find your new favorite book on this list in honor of Pride Month.
Connect with Biracial Bookworms
Instagram | Twitter | Pinterest | Facebook Group | Facebook Page | Newsletter