Q&A from Animator Cynthia Nugent
What drew you to this project?
I was very excited when I read the pdf of the book because I already knew of Jadav Payeng and his astonishing lifelong commitment to reforesting his island. I'm an environmentalist and believe that planting trees on a massive scale as well as protecting old growth forests are the most important things we could do to mitigate climate catastrophe.
Sophia's carefully researched and beautifully written book really spoke to me. I thought Kayla Harren's illustrations were superb and my respect and admiration for them continued to grow as I worked with the art to produce the animation. It was really satisfying to work on a quality picture book that was also environmentally important.
How long did it take you to create the book trailer for THE BOY WHO GREW THE FOREST?
I normally take at least three months to complete an animated trailer of a picture book because I also teach illustration and work on my own books at the same time. However, THE BOY WHO GREW THE FOREST took four because I had to serve a prison sentence for protesting the proposed Kinder Morgan (now Transmountain) pipeline here in Vancouver, BC.
Over 200 people have been arrested, most of us senior citizens. Sophia was incredibly understanding and supportive even though the trailer wasn't ready for her book launch as a result.
Can you give us some insight to your creative process: the techniques, software and what it took to animate?
After I read the pdf of the book, I sketched a storyboard, then created an animatic which is a little video of the proposed scenes played in sequence with the music. The music needs to be found  early in the process and I spent quite a bit of time searching for just the right mood and instrumentation.
I knew I wanted Indian music that would appeal to a western audience, and as always when looking for music to appeal to children, I look for interesting instrumentation, appealing rhythms, and emotional colour. But when I added "Indian" to my search terms, there wasn't anything good on my usual go-to music sites. The music was very adult with clichéd romantic and orientalist overtones, which was totally wrong for a contemporary story about a brave environmentalist child.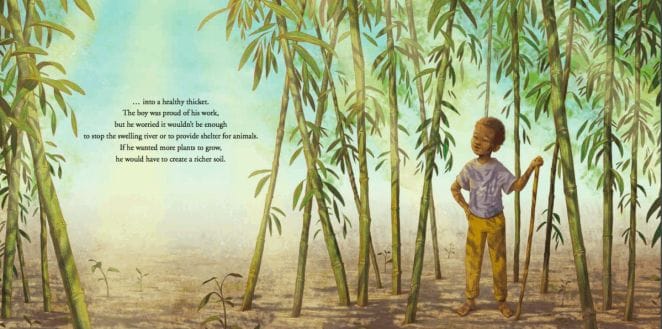 I then narrowed my search to the state of Assam where the story takes place. Eureka! A lot of Assamese music had the qualities I was looking for, but I needed an instrumental. Finally, I found the gorgeous Jorhat Khemta composed and played by Ritu Paban Kotoky, a music PhD candidate in India. I wrote to him and he generously sent me the .wav file. Here's Kotoky's wonderful video: 
After I got approval from Sophia for the music, I created the animation assets from the illustration photoshop files. It involved cutting any characters that animate into puppets, which were then imported into Moho Pro animation software and rigged.
The illustration backgrounds had to modified a lot for the flow of the mini story of the video and to fit the HD video format of 1920 x 1080 px. This involved a lot of cutting, pasting, cloning, and digital painting. After animating the trailer scenes, I exported them as individual videos and compiled them with the music and sound effects in Adobe Premiere Pro. Sound editing was done in Adobe Audition.
Q&A from Author Sophia Gholz
Did you find the person to create the book trailer or did your publisher do that for you?
My publisher was very supportive of having a book trailer created, but it was something I pursued on my own. I wasn't sure if I was making the right choice or not, because I had heard from others that book trailers weren't that important for promotion.
But, in the past, I'd fallen in love with books after viewing a trailer and I figured that, at the very least, it couldn't hurt. So, I began my search. I asked around for recommendations and viewed countless trailers online. There are so many cool and beautiful and quirky trailers out there! It was actually a lot of fun to research and I discovered many new books along the way. 
What drew you to Cynthia's work?
As I searched for book trailers that I enjoyed, I learned that the animation really made a big difference to me. When I came across a trailer I liked, I then researched the creator. Pretty soon, I had a long list of awesome animators. Then I found Cynthia Nugent's Rascal Media site and I was instantly moved by her talent.
All of her trailers were so unique and well-crafted. Cynthia's animation was intricate, the music fit perfectly, and it just felt like the trailers really captured the heart of each book. I thought she would be able to understand my story and that was it for me. I crossed off every other name and quickly sent out an email. 
What was it like working with Cynthia? 
Cynthia was a dream to work with! From the moment we first exchanged emails, to the last. She rolled with all of the punches with ease and was such a pleasure. I'd never had a book trailer created before, but Cynthia knew exactly what she was doing and guided me through the process.
There wasn't a moment when I doubted about her ability to capture Jadav's story and the end result is far more than I could have hoped for.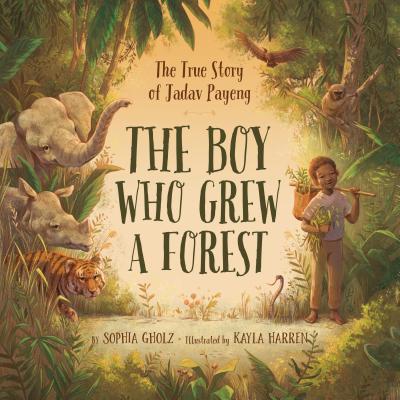 Purchase THE BOY WHO GREW THE FOREST on Amazon | Shop your local indie bookstore.
Websites: Sophia Gholz | Cynthia Nugent 
Connect on Twitter: Sophia Gholz | Cynthia Nugent | Sleeping Bear Press
CONNECT WITH KidLit TV
Facebook Group | Facebook Page | Instagram | Newsletter | Pinterest | Twitter | YouTube