MY NAME IS WAKAWAKALOCH
Wakawakaloch is tormented by kids who mangle her name. Why couldn't she be called something simple . . . like Gloop? That's a name you can find on a T-shirt! But after a visit with her tribe's elder, Wakawakaloch discovers what her name means and how powerful names can be.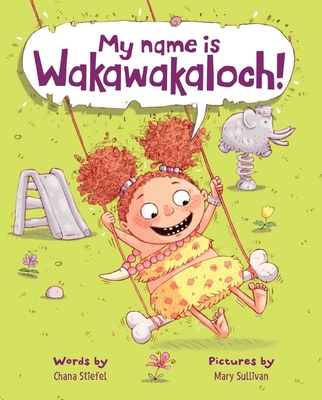 Chana was named for her maternal great-grandmother, who immigrated to America from pre-state Israel in 1920.
Like Wakawakaloch, I am proud to carry on the legacy of my namesake. My hope is that all children (and adults) with unusual names will be inspired to delve into their heritage and wear their names proudly.
Classrooms are filled with wonderfully diverse names. In turn, Wakawakaloch's frustrations will resonate with many young readers. This book is a perfect first day of school read aloud!
Purchase MY NAME IS WAKAWAKALOCH on Amazon | Shop your local indie bookstore.
Connect on Twitter: Author Chana Stiefel | Illustrator Mary Sullivan | Publisher HMH Books
CONNECT WITH KidLit TV
Facebook Group | Facebook Page | Instagram | Newsletter | Pinterest | Twitter | YouTube