SECRET SPIRAL OF SWAMP KID Book Trailer
Warning!

Anyone caught reading this notebook without my permission will be tossed in the bayou with a rabid snapping turtle! Seriously, I mean it!

My name is Russell Weinwright and if you think you've got problems in middle school, try being a half kid, half algae swamp creature who's terrible at sports! It's not easy. I eat sunlight for lunch, I've got duck weed for hair, and I think a frog might be living in my tree trunk arm. I'm literally pond scum! Some kids call me Swamp Kid, but my best friends Charlotte and Preston keep me sane.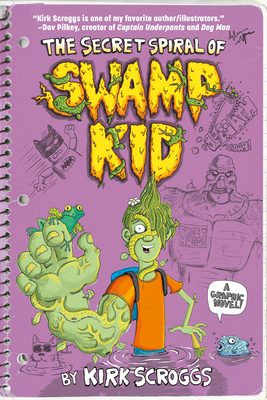 I wish I could let you read this notebook to get the real scoop on being an eighth-grade outsider (please ignore the doodles and ketchup stains!), but things have gotten a little crazy lately. Men in black are spying on me, my science teacher might be an evil mastermind, and a hulking beast in the bayou may or may not be my super swamp mentor. Believe me, you don't wanna know! Turn back now!

After reading THE SECRET SPIRAL OF SWAMP KID, and you'll never look at middle school the same way again.

Purchase THE SECRET SPIRAL OF SWAMP KID on Amazon |Shop your local indie bookstore.
Connect on Twitter: Author/ Illustrator Kirk Scroggs | Publisher DC Comics
Connect with KidLit TV
Facebook Group | Facebook Page | Instagram | Newsletter | Pinterest | Twitter | YouTube