In amongst all the chaos, the whole community rallied together to help each other on a scale that I haven't experienced before. It was so reassuring to see how much a community can achieve together, and this experience inspired me to write a post about multicultural children's books about the power of community.
---
Counting on Community
by Innosanto Nagara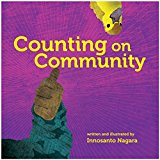 "Three urban farmers, knee-deep in the mud." From the author of the hugely successful ABC book A is for Activist comes this beautiful and inspiring counting book. Counting up to 10 – and always on each other -, Counting on Community takes a first look at the power of community. With vibrant illustrations depicting a diverse neighbourhood and a duck to be found on every page, little ones will love this book! ~ Diverse – Preschool
---
26 Big Things Small Hands Do
by Coleen Paratore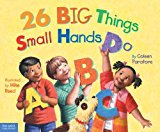 More than just teaching the alphabet, this colourful picture book shows children all the positive things they can do with their little hands, from applauding, building, and planting, to giving hand-made gifts, recycling, and volunteering. 26 Big Things Small Hands Do gives children the important message that even a small person can make a big difference in the lives of their friends, family and community. ~ Diverse – Preschool
---
Read on for the full list of 12 Multicultural Children's Books About The Power Of Community on Colours Of Us.
Connect with KidLit TV
Facebook Group | Facebook Page | Instagram | Newsletter | Pinterest | Twitter | YouTube