With just over a month until the next presidential election, talking about the voting process and the value of a peaceful transition of power in the United States with your kids is important. These 5 Picture Books About Voting books will help introduce your children to the complex systems of our electoral process. Not only are they engaging and informative, these books might even make life long voters out of the kids in your life.
5 Picture Books About Voting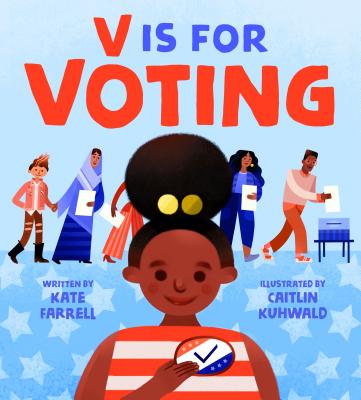 V Is for Voting is an ABC book that introduces progressive families to concepts like social justice and civil rights and reminds readers that every vote counts! A is for active participation.
B is for building a more equal nation.
C is for citizens' rights and our duty.
D is for difference, our strength and our beauty. An engaging introduction to the tenets of democracy, V Is for Voting is a playful, poetic, and powerful primer about the importance of voting and activism. Featuring Kate Farrell's rhyming text and Caitlin Kuhwald's bold art, plus thoughtful back matter, the book is a gorgeous, and crucial, addition to every young reader's library. It makes the perfect gift for fans of A Is for Activist, Woke Baby, and Feminist Baby.
V IS FOR VOTING by Kate Farrell
Illustrated by Caitlin Kuhwald
Published by Henry Holt & Company
---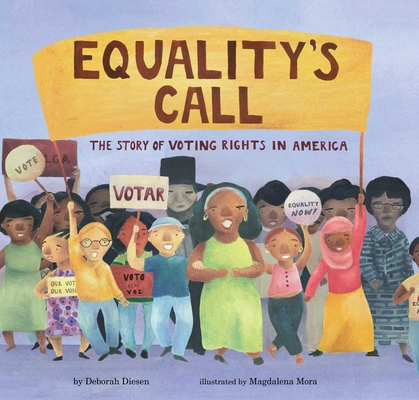 Learn all about the history of voting rights in the United States–from our nation's founding to the present day–in this powerful picture book from the New York Times bestselling author of The Pout-Pout Fish. A right isn't right
till it's granted to all… The founders of the United States declared that consent of the governed was a key part of their plan for the new nation. But for many years, only white men of means were allowed to vote. This unflinching and inspiring history of voting rights looks back at the activists who answered equality's call, working tirelessly to secure the right for all to vote, and it also looks forward to the future and the work that still needs to be done.
EQUALITY'S CALL: The Story of Voting Rights in America Written by Deborah Diesen
Illustrated by Magdalena Mora
Published by Beach Lane Books, Simon and Schuster
---

In this charming and powerful picture book about voting and elections, the students of Stanton Elementary School learn how we can find–and use–our voices for change. Every two years, on the first Tuesday of November, Stanton Elementary School closes for the day. For vacation? Nope! For repairs? No way! Stanton Elementary School closes so that it can transform itself into a polling station. People can come from all over to vote for the people who will make laws for the country. Sure, the Stanton Elementary School students might be too young to vote themselves, but that doesn't mean they can't encourage their parents, friends, and family to vote! After all, voting is how this country sees change–and by voting today, we can inspire tomorrow's voters to change the future.
VOTE FOR OUR FUTURE! by Margaret McNamara
Illustrated by Micah Player
Published by Schwartz & Wade Books, Penguin Random House
---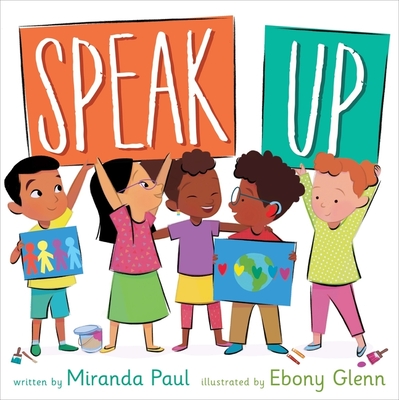 When something really matters, one voice can make a difference. This spirited, vibrant picture book celebrates diversity and encourages kids to speak up, unite with others, and take action when they see something that needs to be fixed.

Join a diverse group of kids on a busy school day as they discover so many different ways to speak up and make their voices heard! From shouting out gratitude for a special treat to challenging a rule that isn't fair, these young students show that simple, everyday actions can help people and make the world a better place.
SPEAK UP Written by Miranda Paul
Illustrated by Ebony Glenn
Published by Clarion Books, Houghton Mifflin Harcourt Books for Young Readers
---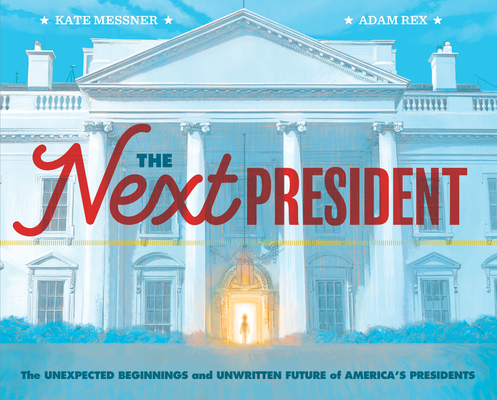 An inspiring and informative book for kids about the past and future of America's presidents. Who will be the NEXT president? Could it be you? When George Washington became the first president of the United States, there were nine future presidents already alive in America, doing things like practicing law or studying medicine. When JFK became the thirty-fifth president, there were 10 future presidents already alive in America, doing things like hosting TV shows and learning the saxophone. And right now–today!–there are at least 10 future presidents alive in America. They could be playing basketball, like Barack Obama, or helping in the garden, like Dwight D. Eisenhower. They could be solving math problems or reading books. They could be making art–or already making change.
THE NEXT PRESIDENT by Kate Messner
Illustrated by Adam Rex
Published by Chronicle Books
---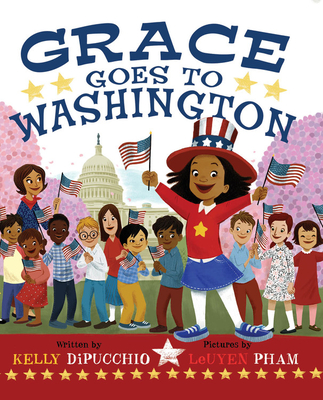 In this follow-up to the New York Times bestseller Grace for President, award-winning duo Kelly DiPucchio and LeUyen Pham present a fun, kid-friendly introduction to the branches of American government as well as the struggle and joys that comes with being a public servant.
"Who's in charge here?"
When Grace learns about the three branches of the United States government, she and the rest of the student council put the lesson into practice as they debate how to spend the money from a school fund-raiser. The arguments continue as they travel to Washington, DC, for a field trip. Grace feels closer than ever to her dream of becoming president someday, but she and her classmates have a lot to learn about what it means to serve the needs of the people, especially when the people want such different things!
GRACE GOES TO WASHINGTON by Kelly DiPucchio
Illustrated by LeUyen Pham
Published by Disney Hyperion Books
---
With the next presidential election upon us, this witty, nonpartisan book will help explain the concept of voting to the youngest readers. I Voted explains the concept of choosing, individually, and as a group, from making a simple choice: "Which do you like better, apples or oranges?", to selecting a class pet, to even more complicated decisions, like electing community representatives. You may not always get want you want, but there are strategies to better your odds Serge Bloch's effortless and charming illustrations paired with Mark Shulman's funny and timely text create a perfect resource for discussing current events with your children. Backmatter includes information about the United States electoral process.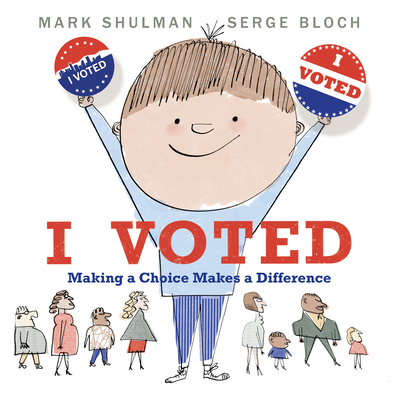 I VOTED by Mark Shulman
Illustrated by Serge Bloch
Published by Neal Porter Books, Holiday House
---
Bethany Edwards is an elementary educator as well as a reading and literacy
specialist. On Biracial Bookworms, she focuses on multiracial and multicultural resources for teaching literacy skills using reading, travel, and learning multiple languages. Additionally, she offers online and self-paced courses for parents and caregivers on Biracial Bookworms Academy.
Connect with Bethany on Biracial Bookworms
Instagram | Twitter | Pinterest | Facebook Group | Facebook Page | Newsletter
---
CONNECT WITH KidLit TV
Executive Producer: Julie Gribble