Podcast: Play in new window | Download
Subscribe: RSS
Ever wonder who came up with the idea for the Macy's Thanksgiving Day Parade balloons? KidLit Radio is back with a special Thanksgiving podcast edition of Read Out Loud. Join Rocco as he reads Melissa Sweet's BALLOONS OVER BROADWAY.
ABOUT THE BOOK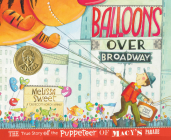 Balloons Over Broadway
By Melissa Sweet 

Everyone's a New Yorker on Thanksgiving Day when young and old rise early to see which giant new balloons will fill the skies for Macy's Thanksgiving Day Parade. Who first invented these "upside-down puppets"? Meet Tony Sarg, puppeteer extraordinaire, rendered in brilliant collage illustrations!
Watch the Read Out Loud Episode!
CONNECT WITH MELISSA SWEET
Facebook | Website
CONNECT WITH KidLit TV
Facebook Group | Facebook Page | Instagram | Newsletter | Pinterest | Twitter | YouTube