If you are looking for books that celebrate the huge milestone of a child starting Kindergarten, I have you covered. Below is a list of the best books for starting Kindergarten. They make great gifts for kids as well as classroom teachers to help in this time of big transition. The stories shared below will help you talk to your children about their most pressing questions: What kindergarten will be like? What if I'm scared? How will I make new friends? What if I miss my grownups? Will I be ok? Use these great stories to help kids work through their complex feelings with ease.
Best Books for Starting Kindergarten
In the tradition of

School's First Day of School

, debut author Keith Calabrese and Pura Belpré Award winner Juana Medina share a sweet, universal story about a clever little girl whose shoes are nervous about the first day of school.

Today is a big day! Today, Lena starts kindergarten. She is very excited. But there's just one problem…

Lena's shoes are

nervous

.

Lena doesn't want to miss out on her first day of school, but she can't go without her favorite shoes! How can she convince them to be brave?
LENA'S SHOES ARE NERVOUS: A First Day of School Dilemma Written by Keith Calabrese   and Illustrated by Juana Medina, Published by Atheneum Books for Young Readers
---
As Mae's first day of school approaches she decides she IS. NOT. GOING. School is scary! What if the other kids don't like her? Or what if she's the only one who doesn't know how to write? Or what if she misses her mom? Mae's anxiety only builds as she walks to school. But then she meets Rosie and Ms. Pearl. Will making new friends show her that they can conquer their fears together?
MAE'S FIRST DAY OF SCHOOL Written and Illustrated by Kate Berube, Published by Harry N. Abrams
---
This clever picture book will prepare young explorers to boldly go where they have never gone before: Planet Kindergarten. Suit up for a daring adventure as our hero navigates the unknown reaches and alien inhabitants of this strange new world. Hilarious and confidence-boosting, this exciting story will have new kindergarteners ready for liftoff!
PLANET KINDERGARTEN Written by Sue Ganz-Schmitt and Illustrated by  Shane Prigmore, Published by Chronicle Books
---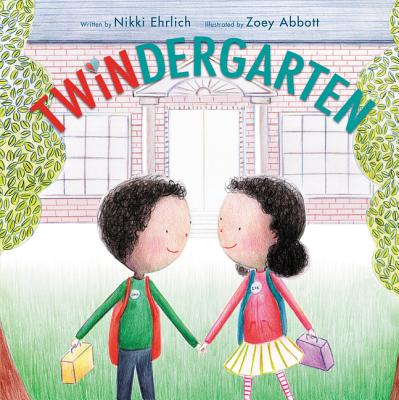 It's the night before the twins are starting kindergarten, and they have the just-about-to-start-school jitters. After all, they will be in different classrooms! What will kindergarten be like when they're not together all day? But Dax and Zoe will learn that kindergarten is full of new surprises and adventures, and being apart for a short while isn't so bad.
TWINDERGARTEN by Nikki Ehrlich, Illustrated by Zoey Abbott Wagner, Published by HarperCollins
---
MJ is more than ready for her first day of kindergarten! With her hair freshly braided and her mom's special tiara on her head, she knows she's going to rock kindergarten. But the tiara isn't just for show—it also reminds her of all the good things she brings to the classroom, stuff like her kindness, friendliness, and impressive soccer skills, too! Like The King of Kindergarten, this is the perfect book to reinforce back-to-school excitement and build confidence in the newest students.    
THE QUEEN OF KINDERGARTEN by Derrick Barnes and Illustrated by Vanessa Brantley-Newton, Published by Penguin Random House
---

---
Bethany Edwards is an elementary educator as well as a reading and literacy specialist. On Biracial Bookworms, she focuses on multiracial and multicultural resources for teaching literacy skills using reading, travel, and learning multiple languages. Additionally, she offers online and self-paced courses for parents and caregivers on Biracial Bookworms Academy.