If you have kids in your life that love graphic novels, help them discover a new and wonderful genre of a new middle grade fantasy series. These new Middle Grade Fantasy Books don't shy away from complex plots and topics. They handle issues such as racism, death, confidence or bullying. However, they are couched in magic, new worlds and wonder, making these topics become much more palatable. I know these books will delight young readers and keep them asking for more.


New Middle Grade Fantasy Books


Alex and Conner Bailey's world is about to change, in this fast-paced adventure that uniquely combines our modern day world with the enchanting realm of classic fairy tales. The Land of Stories tells the tale of twins Alex and Conner. Through the mysterious powers of a cherished book of stories, they leave their world behind and find themselves in a foreign land full of wonder and magic where they come face-to-face with fairy tale characters they grew up reading about. But after a series of encounters with witches, wolves, goblins, and trolls alike, getting back home is going to be harder than they thought.
THE WISHING SPELL Written by Christopher Colfer, Published by Little, Brown Books for Young Readers
---
Morrigan Crow is cursed. Having been born on Eventide, the unluckiest day for any child to be born, she's blamed for all local misfortunes, from hailstorms to heart attacks–and, worst of all, the curse means that Morrigan is doomed to die at midnight on her eleventh birthday.

But as Morrigan awaits her fate, a strange and remarkable man named Jupiter North appears. Chased by black-smoke hounds and shadowy hunters on horseback, he whisks her away into the safety of a secret, magical city called Nevermoor. 

It's then that Morrigan discovers Jupiter has chosen her to contend for a place in the city's most prestigious organization: the Wundrous Society. In order to join, she must compete in four difficult and dangerous trials against hundreds of other children, each with an extraordinary talent that sets them apart–an extraordinary talent that Morrigan insists she does not have. To stay in the safety of Nevermoor for good, Morrigan will need to find a way to pass the tests–or she'll have to leave the city to confront her deadly fate.

 

Perfect for fans of the Harry Potter series and Neil Gaiman, this fast-paced plot and imaginative world has a fresh new take on magic that will appeal to a new generation of readers.
NEVERMOOR: The Trials of Morrigan Crow Written by Jessica Townsend, Published by Little, Brown Books for Young Readers
---
Amari Peters has never stopped believing her missing brother, Quinton, is alive. Not even when the police told her otherwise, or when she got in trouble for standing up to bullies who said he was gone for good. So when she finds a ticking briefcase in his closet, containing a nomination for a summer tryout at the Bureau of Supernatural Affairs, she's certain the secretive organization holds the key to locating Quinton–if only she can wrap her head around the idea of magicians, fairies, aliens, and other supernatural creatures all being real.
Now she must compete for a spot against kids who've known about magic their whole lives. No matter how hard she tries, Amari can't seem to escape their intense doubt and scrutiny–especially once her supernaturally enhanced talent is deemed "illegal." With an evil magician threatening the supernatural world, and her own classmates thinking she's an enemy, Amari has never felt more alone. But if she doesn't stick it out and pass the tryouts, she may never find out what happened to Quinton.
AMARI AND THE NIGHT BROTHERS Written by B. B. Alston, Published by Balzer & Bray/Harperteen
---
Percy Jackson meets Tristan Strong in this hilarious, action-packed middle grade contemporary fantasy that follows a young boy as he journeys across China to seal the underworld shut and save the mortal realm. Zachary Ying never had many opportunities to learn about his Chinese heritage. His single mom was busy enough making sure they got by, and his schools never taught anything except Western history and myths. So Zack is woefully unprepared when he discovers he was born to host the spirit of the First Emperor of China for a vital mission: sealing the leaking portal to the Chinese underworld before the upcoming Ghost Month blows it wide open.
The mission takes an immediate wrong turn when the First Emperor botches his attempt to possess Zack's body and binds to Zack's AR gaming headset instead, leading to a battle where Zack's mom's soul gets taken by demons. Now, with one of history's most infamous tyrants yapping in his headset, Zack must journey across China to heist magical artifacts and defeat figures from history and myth, all while learning to wield the emperor's incredible water dragon powers. And if Zack can't finish the mission in time, the spirits of the underworld will flood into the mortal realm, and he could lose his mom forever.
ZACHARY YING AND THE DRAGON EMPEROR by Xiran Jay Zhao, Published by Margaret K. McElderry Books
---
Named one of 100 Best Fantasy Books of All Time by Time magazine! Twelve-year-old Aru Shah has a tendency to stretch the truth in order to fit in at school. While her classmates are jetting off to family vacations in exotic locales, she'll be spending her autumn break at home, in the Museum of Ancient Indian Art and Culture, waiting for her mom to return from her latest archeological trip. Is it any wonder that Aru makes up stories about being royalty, traveling to Paris, and having a chauffeur? One day, three schoolmates show up at Aru's doorstep to catch her in a lie.
They don't believe her claim that the museum's Lamp of Bharata is cursed, and they dare Aru to prove it. Just a quick light, Aru thinks. Then she can get herself out of this mess and never everfib again. But lighting the lamp has dire consequences. She unwittingly frees the Sleeper, an ancient demon whose duty it is to awaken the God of Destruction. Her classmates and beloved mother are frozen in time, and it's up to Aru to save them. The only way to stop the demon is to find the reincarnations of the five legendary Pandava brothers, protagonists of the Hindu epic poem, the Mahabharata, and journey through the Kingdom of Death. But how is one girl in Spider-Man pajamas supposed to do all that?
ARU SHAH AND THE END OF TIME
Written by Roshani Chokshi, Published by Rick Riordan Presents
---

---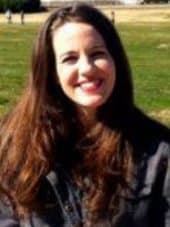 Bethany Edwards is an elementary educator as well as a reading and literacy specialist. On Biracial Bookworms, she focuses on multiracial and multicultural resources for teaching literacy skills using reading, travel, and learning multiple languages. Additionally, she offers online and self-paced courses for parents and caregivers on Biracial Bookworms Academy.