חנוכה שמח
Hanukkah Sameach!
(Happy Hanukkah in Hebrew!)

Get ready for Hanukkah with the lighting of the menorah, singing songs, the spinning of the dreidels, yummy food, and presents to celebrate the holiday!
Join us as we share Hanukkah children's books, arts and crafts, and recipes!
DOWNLOAD this placemat of Coloring Fun!


About the Book
Dancing Dreidels is a delightful story of Rebecca and her four favorite dreidels, Sheila Shin, Gail Gimmel, Harry Hey, and Neil Nun. Rebecca waits for Hanukkah every year when the family gathers to celebrate. The smells of yummy foods fill the air. Singing, dancing, and the lighting of the menorah take center stage until it is time for the dreidels to spin for the evening's grand finale. But, Sheila can't stop falling down! Will she be able to 'dance' at the Hanukkah party?
DOWNLOAD Dancing Dreidels' Word Games!
About the Book
Acclaimed author Emily Jenkins (A Greyhound, a Groundhog) and Caldecott Award-winning artist Paul O. Zelinsky (Rapunzel) bring the beloved ALL-OF-A-KIND FAMILY to life in a new format. Fans, along with those just meeting the five girls ("all of a kind," as their parents say), will join them back in 1912, on the Lower East Side of NYC, and watch as preparations for Hanukkah are made. When Gertie, the youngest, is not allowed to help prepare latkes, she throws a tantrum. Banished to the girls' bedroom, she can still hear the sounds and smell the smells of a family getting ready to celebrate. But then Papa comes home and she is allowed out–and given the best job of all: lighting the first candle on the menorah.
CLICK the images to DOWNLOAD
Emily and Paul's Recipes for LATKES!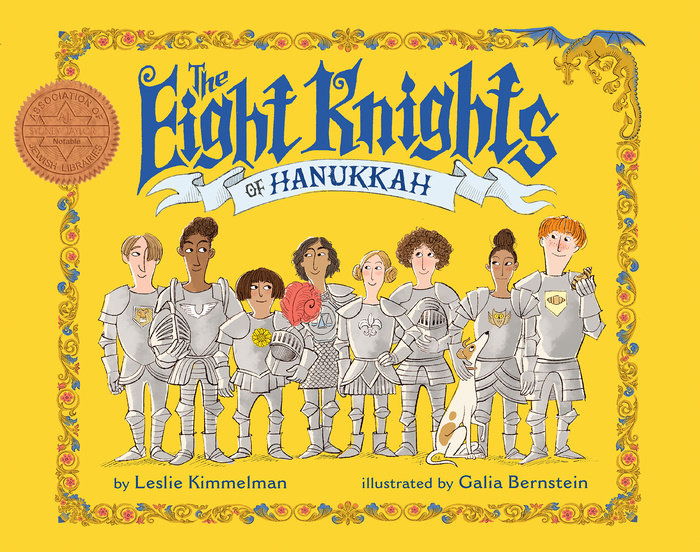 About the Book
It's the last night of Hanukkah and everyone is doing their part for the big celebration, but a dragon called Dreadful has other ideas. He roams the countryside, interrupting the party preparations. Lady Sadie must call upon the Eight Knights of Hanukkah to perform deeds of awesome kindness and stupendous bravery and put an end to the dragon's shenanigans.
When Dreadful eats all the special donuts the baker made, Sir Lily helps the baker make more sufganiyot. Sir Alex makes a young lad a new dreidel after Dreadful scorched his original one. And on the Knights go—but when they finally catch up to Dreadful, a funny surprise awaits them!
About the Book
Moses Feldman, a Jewish boy, lives at one end of Flatbush Avenue in Brooklyn, New York, while Mohammed Hassan, a Muslim boy, lives at the other. One day they meet at Sahadi's market while out shopping with their mothers and are mistaken for brothers. A friendship is born, and the boys bring their families together to share rugelach and date cookies in the park as they make a wish for peace.
Learn how to make date cakes and rugelach!
Join Jane Breskin Zalben for StoryMakers in the Kitchen with Rocco and Christine Whelan from iconic, Brooklyn Middle Eastern grocery, Sahadi's. You're in for a sweet treat as Jane takes us through a recipe from the back of her book, A MOON FOR MOE & MO, a Sydney Taylor Award honoree!


About the Book
Bubba Brayna makes the best latkes in the village, and on the first night of Hanukkah, the scent of her cooking wakes a hungry, adorable bear from his hibernation.  He lumbers into town to investigate, and Bubba Brayna—who does not see or hear very well—mistakes him for her rabbi. She welcomes the bear inside to play the dreidel game, light the menorah, and enjoy a scrumptious meal.
However, after her well-fed guest leaves, there's a knock at the door—it's the rabbi, and all of Brayna's other friends, arriving for dinner.  But there are no latkes left—and together, they finally figure out who really ate them.
A 2013 National Jewish Book Award Winner, this book is perfect for a holiday story time with children— either in the classroom or at home, as an introduction for young readers to the traditions and customs of Hanukkah, and as a classic to return to year after year.

MEGAN CAHILL-ASSENZA – is from Northport, NY, and a recent Children's Literature Fellow from Stony Brook University. A writer, filmmaker, and animal lover, Megan is pursuing a career in children's literature. She currently works in the Academic Tutoring Center at Suffolk County Community College.