Read Out Loud: BALLOONS OVER BROADWAY
Rocco reads Melissa Sweet's book, Balloons Over Broadway, in this episode of Read Out Loud! What new balloons will fly in the sky during the Thanksgiving Day Parade? Find out in this episode of Read Out Loud!
Like It? Pin It!
ABOUT THE BOOK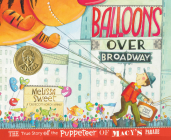 Balloons Over Broadway
By Melissa Sweet

Everyone's a New Yorker on Thanksgiving Day, when young and old rise early to see what giant new balloons will fill the skies for Macy's Thanksgiving Day Parade. Who first invented these "upside-down puppets"? Meet Tony Sarg, puppeteer extraordinaire In brilliant collage illustrations!
ABOUT MELISSA SWEET
Melissa Sweet has illustrated nearly 100 children's books from board books to picture books and nonfiction titles. Her collages and paintings have appeared in the New York Times, Martha Stewart Living, Madison Park Greetings, Smilebox  and for eeBoo Toys, which have garnered the Oppenheim and Parents Choice Awards. She has written and illustrated three books: Balloons Over Broadway: The True Story of the Puppeteer of Macy's Parade which garnered many awards including: the  2012 Sibert Medal, the NCTE Orbis Pictus Award, an ALA Notable Book, the Flora Stieglitz Straus Award from Bank Street Books as well as the Cook Prize which honors a STEM (science, technology, engineering and math) picture book; Tupelo Rides the Rails, and Carmine: A Little More Red, a New York Times Best Illustrated, 2005.
Did you like this article? Leave a comment for us below. We love to hear from YOU!