Celebrate Valentine's Day
with a Book and a Craft or Activity
to share with someone YOU LOVE!
Read

About the Book
A delightful picture book about the power of hugs, from the mega-bestselling creators of I Love You Night and Day, You Make Me Happy and I'll Never Let You Go.
Have you ever wondered who gives the very BEST hug?
The kind that's warm and cozy and snug?
Extra squeezy, but never too tight,
the kind that fits you COMPLETELY right?

From bear hugs to koala cuddles, hippo huddles to walrus wiggles, penguin pecks to porcupine prickles, there are a LOT of hugs to choose from.
But the perfect hug may not be far-in fact, it might be right where you are!
Who gives the best hugs? Have you guessed? It's the ones at home, who love you the best!
Full of silly and snuggly animal cuddles, this irresistible story from the bestselling creators Smriti Prasadam-Halls and Alison Brown is perfect for sharing and reading aloud.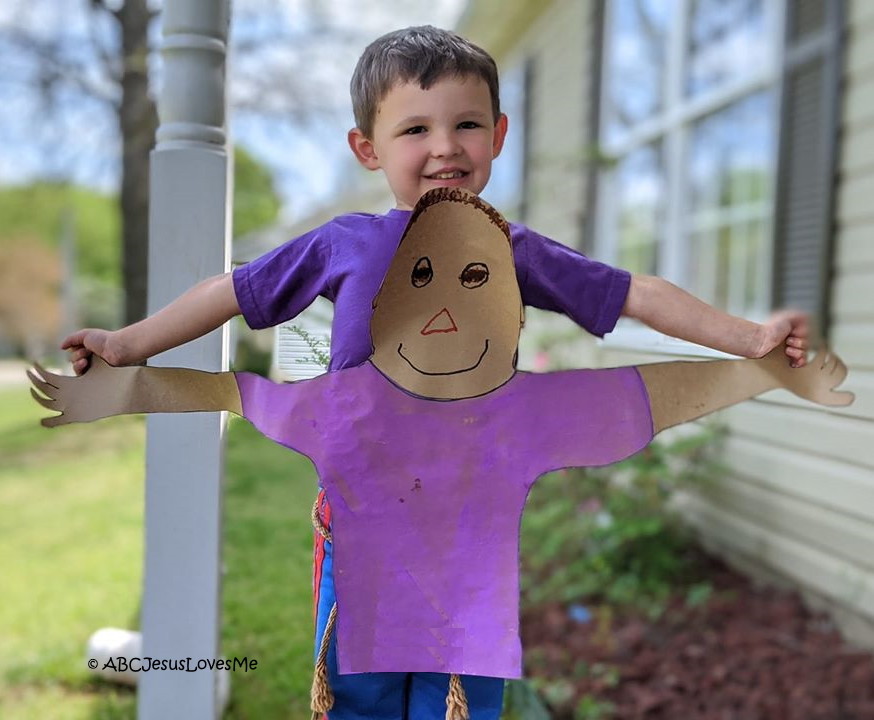 SELF-PORTRAIT HUG
The idea is to trace the child's body (from waist up) allowing the child to decorate it. Then, mail this "hug" to someone you love.
Supplies only require large paper (e.g. butcher block, wrapping, or packing paper), scissors, and crayons, markers, or other writing utensils.
Depending on the child's age, have the child write his/her name, cut out the project, and draw his/her face and clothing.
READ

About the Book
A tender, funny tale celebrating all forms of love from award-winning and bestselling author-illustrator duo Mac Barnett and Carson Ellis.
"What is love?" a young boy asks. "I can't answer that," his grandmother says, and so the boy goes out into the world to find out. But while each person he meets—the fisherman, the actor, and others—has an answer to his question, not one seems quite right. Could love really be a fish, or applause, or the night? Or could it actually be something much closer to home?
Read
About the Book
From the bestselling and beloved team behind I Wish You More, comes a moo-ving ode to the love between parent and child
New York Times bestselling pair Tom Lichtenheld and Amy Krouse Rosenthal present udderly perfect expressions of affection to share between any cow and calf: I love you no matter your moo-d. I love giving you a big s-moo-ch. My love for you is as big as . . . a MOO-SE! With a universal message and warm, funny text that families will read and reread together, this exuberant book from two picture book superstars at their best, is a moo-velous choice for gifts year-round to fans of I Love You to the Moon and Back and Guess How Much I Love You.
from

READ
About the Book
Join Lulu as she discovers the different ways there are to express and communicate love in what we see, hear and feel as we do things together.
This is a story about a little girl named Lulu who spends a lot of time with her Abuelita while her Mom is at work. Lulu's days are filled with activities such as listening to music, learning to cook as well as learning how to speak Spanish. Sometimes, she is able to help Abuelita take care of the babies. As time passes, Lulu notices changes happening and things just don't seem the same with Abuelita. Join Lulu as she discovers the different ways there are to express and communicate love to each other in what we see, hear and feel. The author's hope is that in sharing this story, the lesson will be embraced by adults as well as children.
CLICK HERE StoryMakers with author, Awilda Prigano LOVING LULU

READ
About the Book
The New York Times bestselling Cat is back just in time for Valentine's Day—but he's not interested in giving a valentine to any old dog. Full of humor and heart, this picture book is perfect for fans of Pete the Cat, Bad Kitty, Mo Willems's Elephant and Piggie books, and of course, Cat's two previous capers, Here Comes the Easter Cat and Here Comes Santa Cat.
Cat does NOT like Valentine's Day. It's much too mushy, and no way is he making anyone a valentine—especially not his new neighbor, Dog. Dog refuses to respect the fence: He keeps tossing over old bones and hitting Cat in the head! But just as Cat's about to send Dog an angry "valentine" telling him exactly what he can do with his bones, Dog throws a ball over the fence. What is Dog playing at? Cat is in for a hilarious—and heartwarming—surprise in this story about being perhaps too quick to judge.
A great Valentine's Day gift for any age—read it on Valentine's Day and year-round!
READ
Sealed With A Kiss
About the Book
An Amazon Best Book of the Month pick!
What's a seal to do when she's new to the zoo? Make new friends, of course!
But when the other animals aren't so friendly, a wise sparrow inspires them to surprise Seal with a special treat.
Full of heart and humor, this story of friendship and forgiveness from bestselling author Beth Ferry and illustrator Olivier Tallec will have little ones giggling along, and it makes for a fun Valentine's Day gift!
READ
The Love Letter
About the Book
Fall in love with this endearing and adorable picture book that illustrates how a little bit of heart goes a long way to making the world a better place.
Hedgehog, Bunny, and Squirrel are best friends. One day, they each find a letter. But not just any letter…
A love letter.
My word!
My whiskers!
Aww, nuts!
Someone loves them. But who? The answer may surprise you!
Celebrated author Anika Aldamuy Denise and beloved illustrator Lucy Ruth Cummins deliver this heartwarming tale about a wonderful mix-up that reminds us of the joys of friendship.
Makes for a perfect Valentine's Day gift, or for any time you want to tell someone in your life how much you love them!
READ
How Do I Love Thee?
About the Book
A gorgeous reinvention of Elizabeth Barrett Browning's famous "Sonnet 43" from the bestselling author of the BabyLit board books and the acclaimed illustrator of Over and Under the Snow. 
How do I love thee? Let me count the ways.
Whether in soft sunlight or rain-drizzled night or winter's frost-etched breath, three children share the love and joy of friendship while exploring the wonders of nature.
Bestselling author Jennifer Adams has reimagined Elizabeth Barrett Browning's beloved "Sonnet 43," best known by its opening lines, creating a lyrical, evocative ode to the love of family and friends. Christopher Silas Neal brings the poetry to life with his beautiful, imaginative, and whimsical illustrations.
How Do I Love Thee? Activities 
Read
Love Is My Favorite Thing
About the Book
Starring an enthusiastic pooch whose joy, optimism and love know no bounds, this lively picture book is based on Emma Chichester Clark's own dog, and joyfully celebrates unconditional love.
Plum has lots of favorite things—catching sticks, her bear, her bed—but really, LOVE is her absolute favorite thing. She loves her family and all the things they do together. Sometimes, however, Plum's exuberance causes trouble, and she just can't help being naughty. But fortunately, love is such a great thing that even when she makes mistakes, Plum's family still adores her.
from

MEGAN CAHILL-ASSENZA – is from Northport, NY, and a recent Children's Literature Fellow from Stony Brook University. A writer, filmmaker, and animal lover, Megan is pursuing a career in children's literature. She currently works in the Academic Tutoring Center at Suffolk County Community College.
Connect with Megan!  Twitter | Facebook | Instagram