To help you celebrate National Reading Month, I have compiled a list of my favorite middle grade books read alouds that I believe the entire family will enjoy. When kids are able to read on their own, many caregivers stop reading with them. However, I can tell you from years in the classroom with older students, their favorite part of the day is when I read one chapter aloud right before the end of the day.
I rounded up a list of contemporary middle grade books with diverse characters because they provide young readers, with the opportunity to hear the middle grade "voice" sound authentic. They can connect with these stories as they put complicated topics into relatable words that help kids process the world around them.
Celebrate National Reading Month
The second book from critically acclaimed author Leslie C. Youngblood, about family, identity, and learning to stand up for what's right — now in paperback! Georgie has no idea what to expect when she, Mama, and Peaches are plopped down in the middle of small town USA–aka Bogalusa, Louisiana–where Mama grew up and Great Aunt Vie needs constant care. Georgie wants to help out at the once famous family diner that served celebrities like the Jackson 5 and the Supremes, but everyone is too busy to show her the ropes and Mama is treating her like a baby, not letting her leave her sight.

When she finally gets permission to leave on her own, Georgie makes friends with Markie–a foster kid who'd been under Aunt Elvie's care–who has a limb difference and a huge attitude. Then Markie asks Georgie to help her find her mom, and suddenly summer has a real purpose. But as Georgie and Markie's histories begin to entwine, Georgie becomes more desperate to find the truth. But words spoken cannot be taken back and once Georgie knows the truth, she may even find a way to right past wrongs and help Aunt Vie and Markie out after all.
FOREVER THIS SUMMER Written by Leslie C. Youngblood
Published by Little, Brown Books for Young Readers
---
In Meg Medina's follow-up to her Newbery Medal-winning novel, Merci takes on seventh grade, with all its travails of friendship, family, love–and finding your rhythm.

Seventh grade is going to be a real trial for Merci Suárez. For science she's got no-nonsense Mr. Ellis, who expects her to be a smart as her brother, Roli. She's been assigned to co-manage the tiny school store with Wilson Bellevue, a boy she barely knows, but whom she might actually like. And she's tangling again with classmate Edna Santos, who is bossier and more obnoxious than ever now that she is in charge of the annual Heart Ball.

One thing is for sure, though: Merci Suárez can't dance–not at the Heart Ball or anywhere else. Dancing makes her almost as queasy as love does, especially now that Tía Inés, her merengue-teaching aunt, has a new man in her life. Unfortunately, Merci can't seem to avoid love

or

dance for very long. She used to talk about everything with her grandfather, Lolo, but with his Alzheimer's getting worse each day, whom can she trust to help her make sense of all the new things happening in her life?

The Suárez family is back in a touching, funny story about growing up and discovering love's many forms, including how we learn to love and believe in ourselves.
MERCI SUAREZ CAN'T DANCE Written by Meg Medina
Published by Candlewick Press
---

Ghost wants to be the fastest sprinter on his elite middle school track team, but his past is slowing him down in this first electrifying novel of the acclaimed Track series from Coretta Scott King/John Steptoe Award-winning author Jason Reynolds.

Ghost. Lu. Patina. Sunny. Four kids from wildly different backgrounds with personalities that are explosive when they clash. But they are also four kids chosen for an elite middle school track team–a team that could qualify them for the Junior Olympics if they can get their acts together. They all have a lot to lose, but they also have a lot to prove, not only to each other, but to themselves.

Running. That's all Ghost (real name Castle Cranshaw) has ever known. But Ghost has been running for the wrong reasons–it all started with running away from his father, who, when Ghost was a very little boy, chased him and his mother through their apartment, then down the street, with a loaded gun, aiming to kill. Since then, Ghost has been the one causing problems–and running away from them–until he meets Coach, an ex-Olympic Medalist who sees something in Ghost: crazy natural talent. If Ghost can stay on track, literally and figuratively, he could be the best sprinter in the city. Can Ghost harness his raw talent for speed, or will his past finally catch up to him?
GHOST by Jason Reynolds
Published by Antheneum Books, Simon and Schuster
---
Coretta Scott King Honor winner Brenda Woods introduces introverted, daydream-prone Zoe, who's afraid her real life will never be as exciting as her imaginary one.

Zoe Reindeer considers herself "just Zoe"–never measuring up to her too-perfect older sister or her smarty-pants little brother. Truthfully, though, she'd rather just blend in with the plants at the family business, Doc Reindeer's Exotic Plant Wonderland. She does have one friend, Q, and he's the best one ever–but he's moving away, leaving Zoe to fend for herself, and she doesn't know what she'll do without him. That is until a tall astronomer from Madagascar comes to the nursery looking for a Baobab tree. His visit starts a ball rolling that makes Zoe long for real adventures, not just imaginary ones–and shows her that perhaps her first real adventure is finally beginning.
ZOE IN WONDERLAND by Brenda Woods
Published by Nancy Paulsen Books, Penguin RandomHouse
---
In these six stories, set in six distinct worlds, you'll meet a boy and his robot nanny traveling the globe in search of the world's tastiest treat, a child mechanical prodigy who invents the freshest dessert ever, and an evil ice cream truck driver who strikes fear in the heart of every kid in town.

You'll be transported to a beachside boardwalk with an ice cream stand run by a penguin, a hilltop realm ruled by a king with a sweet tooth, and a giant alien space lab with a lone human subject who longs for a taste of home.

Each story features black-and-white interior illustrations from a different artist, including Daniel Salmieri, Charles Santoso, Liniers, Emily Hughes, Nicole Miles, and Seaerra Miller, making this book unlike any you've ever seen. So grab a cup or a cone, and watch out for brain freeze! You'll definitely want to save room for this treat.
THE ICE CREAM MACHINE by Adam Rubin
Published by G.P. Putnam's Sons Books for Young Readers, Penguin Books
Need more middle grade titles? Check out more of KidLitTV's middle grade book recommendations.
---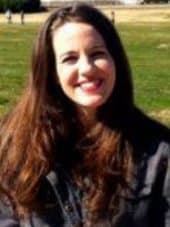 Bethany Edwards is an elementary educator as well as a reading and literacy
specialist. On Biracial Bookworms, she focuses on multiracial and multicultural resources for teaching literacy skills using reading, travel, and learning multiple languages. Additionally, she offers online and self-paced courses for parents and caregivers on Biracial Bookworms Academy.

---
Executive Producer: Julie Gribble