By Rocco Staino
In Spring, parents, teachers, and librarians' thoughts turn to books about the season and its related topics. Here is a list of 10 titles to share with the children in your life!

Green (Roaring Brook, 2012) is the color of spring and it is also the title of Laura Vaccaro Seeger's book about the color. The Caldecott honor book uses die cuts to pay homage to the color green. Children we be amazed by each page turn.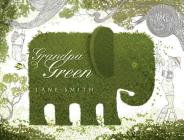 Green is also part of the title of Lane Smith's Grandpa Green (Roaring Brook, 2011), a touching story about a grandfather who is a gardener. He shares memories via his topiaries on a walk with his grandson through his garden.

In The Curious Garden (Little Brown, 2009) Peter Brown bring the garden theme to an urban setting. Red headed Liam has a quest to transform his grey city into a lush green world.
Miss Rumphius (Viking, 1982) is another famed picture book character that also longed to make the world beautiful. Barbara Cooney is said to have based this story on a real life woman who scattered lupine seeds everywhere she went.

Kate Sessions was definitely a real person who helped San Diego grow from a dry desert town into a lush, leafy city known for its gorgeous parks and gardens. H. Joseph Hopkins and Jill McElmurry tell her story in the picture book biography The Tree Lady: The True Story of How One Tree-Loving Woman Changed a City Forever (Beach Lane, 2013).
Spring is also a good time to introduce children's classics and I have two for you.

Make Way for Ducklings (Viking, 1941) is the Caldecott winning book by Robert Mccluskey that tells the story of a mallard family's adventures of living in a lagoon at the Boston Public Garden.
Before Margaret Wise Brown and Clement Hurd collaborated on Good Night Moon (Harper, 1947) they created The Runaway Bunny (Harper, 1942). The plot deals with a small rabbit, who wants to run away. His mother, however, tells him that "if you run away, I will run after you."

If your young reader wants to go on a bunny binge then add Kevin Henkes Little White Rabbit (Greenwillow, 2014).  It has been called "a cousin to The Runaway Bunny" and is just as charming.

Kevin Henkes teamed up with his wife, Laura Dronzek, for When Spring Comes (Greenwillow, 2016). They show the transformation of the world around us from winter to spring.

Finally, And Then It's Spring (Roaring Brook, 2012) by Julie Fogliano and Erin Stead is the story of a boy and his dog and the joy of spring.
LIKE IT? PIN IT!
ABOUT ROCCO STAINO
Rocco is the charismatic host of StoryMakers, our interview show.  A captivating and important figure in the book community, he is a prominent librarian, a contributing editor at School Library Journal, a contributing writer at The Huffington Post, and the Director of the Empire State Center for the Book, which administers the New York State Writers Hall of Fame. Rocco has interviewed such luminaries as Beverly Cleary, Judy Blume, and Jean Craighead George.
CONNECT WITH ROCCO STAINO
Instagram | Twitter
CONNECT WITH KidLit TV
Facebook Group | Facebook Page | Instagram | Newsletter | Pinterest |  Twitter | YouTube
This post contains affiliate links.