StoryMakers: Aaron Becker
All good things must come to an end … sort of. In early August 2016, the award-winning and bestselling author/illustrator Aaron Becker brought his Journey trilogy to a close with Return. While the series is ending we'll have these brilliant, multi-layered, and breathtaking wordless picture books to explore and interpret, forever!
StoryMakers host Rocco Staino and Aaron had an illuminating discussion about his inspiration for the trilogy — about a girl's adventures in the far off city of Pallonezia — including children's literature classics, The Wizard of Oz and Where the Wild Things Are. Although there is a story arc that pulls them together; Journey, Quest, and Return work beautifully as stand-alone books. The Journey trilogy is satisfying for parents and children because of its many layers and possibilities. Also, it begs the question, "What are we missing when we don't explore the world around us?"
Join us on a quest to:
See the very first image from the Journey trilogy, which Aaron's never shared before!
Find out what Aaron's intentions were when he went to the library.
Get familiar with illustrator Ed Emberley, an early artistic influence.
See several books Aaron made as a child and adult. He bound a few himself!
Find out how LEGO blocks inspired some of Aaron's illustration style for books and film.
Aaron believes everyone should be a storyteller. What stories do you want to tell?
We're giving away Aaron Becker's Journey trilogy. You can win Journey, Quest, and Return! The giveaway ends at 11:59 PM on August 31, 2016. ENTER NOW!
LIKE IT? PIN IT!

ABOUT THE BOOKS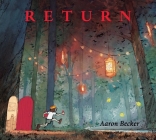 Return
Written and illustrated by Aaron Becker
Published by Candlewick Press
Failing to get the attention of her busy father, a lonely girl turns back to a fantastic world for friendship and adventure. It's her third journey into the enticing realm of kings, emperors, castles, canals, exotic creatures and enchanting landscapes. This time, it will take something truly powerful to persuade her to return home.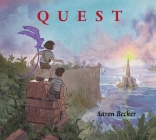 Quest
Written and illustrated by Aaron Becker
Published by Candlewick Press
A king emerges from a hidden door in a city park, startling two children sheltering from the rain. He  gives the children a map and some strange objects, than he is captured by hostile forces that whisk him back through the enchanted door. Just like that, the children are caught up in a quest to rescue the king and his kingdom from darkness, while illuminating the farthest reaches of their imagination. Colored markers in hand, they make their own way through the portal, under the sea, through a tropical paradise, over a perilous bridge, and high in the air with the help of a winged friend.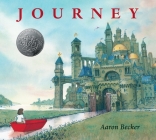 Journey
Written and illustrated by Aaron Becker
Published by Candlewick Press
A lonely girl draws a magic door on her bedroom wall and through it escapes into a world where wonder, adventure, and danger abound. Red marker in hand, she creates a boat, a balloon, and a flying carpet that carry her on a spectacular journey toward an uncertain destiny. When she is captured by a sinister emperor, only an act of tremendous courage and kindness can set her free. Can it also lead her home and to her heart's desire?
ABOUT AARON BECKER
Like many American boys born in the wake of the Apollo missions, Aaron Becker decided early on he would be an astronaut. His mother was an astronomy teacher at a local college in his hometown Baltimore. She would take him along on her nighttime fieldtrips to the observatory; its musky smell relieved with the opening of its domed roof. At some point, he surmised that a career in actual space travel required military training, and this seemed like a lot of work. So he switched gears and started drawing pictures of outer space instead. There was palpable joy in this: creating civilizations and stories filled with a cast of characters of my own design. To be sure, these worlds were reflections of places inside of him. But more importantly, drawing was an immediate path for creating something he could manage on his own terms. These worlds were his and his alone. With a pad of paper and a set of markers, he could pretty much do whatever he wanted. For an eight year old confined by the limitations of his material existence, this seemed like a pretty good deal.
CONNECT WITH AARON BECKER
Website | Facebook | Twitter | Tumblr | Vimeo
CONNECT WITH KidLit TV
Facebook Group | Facebook Page | Instagram | Newsletter | Pinterest | Twitter | YouTube
This post contains affiliate links.
All Rafflecopter entrants must reside in the United States and be at least 13 years old.

Did you like this article? Leave a comment for us below.
We love to hear from YOU!