StoryMakers: Jennifer Oxley & Billy Aronson
We're trying to make math cool … It's for everybody
and it's everywhere. It's a part of your life.
— Billy Aronson
Jennifer Oxley and Billy Aronson are the team behind the award-winning PBS series "Peg + Cat," produced by The Fred Rogers Company. Peg is a little girl whose life is a big math problem, which she solves with her best friend, Cat. Her world looks like math as the backdrop is graph paper and various items are made from simple shapes. The animated television series Peg + Cat has won seven Daytime Emmy Awards including Outstanding Pre-School Children's Animated Program, Outstanding Individual Achievement in Animation (Jennifer Oxley), and Outstanding Writing in a Pre-School Animated Program.
Parents and teachers who want to continue the STEAM fun offline can turn to the Peg + Cat books written by the series creators. In this episode of StoryMakers Rocco Staino, Billy Aronson, and Jennifer Oxley discuss the creative vision for the series and several themes central to the  series of books. Fun, simple mathematics, diversity, and a seamless flow are essential to the success of the books and television series.
Oxley and Aronson offer encouraging messages about mathematics that will inspire children, parents, and teachers alike.
We're giving away three (3) sets of books for this episode of StoryMakers. Each set includes a of copy of Jennifer and Billy's picture book, PEG + CAT: THE PIZZA PROBLEM and PEG + CAT: THE RACE CAR PROBLEM. The giveaway ends at 11:59 PM on June 7, 2016. ENTER NOW!
LIKE IT? PIN IT!
ABOUT THE BOOKS

Peg + Cat: The Pizza Problem


By Jennifer Oxley and Billy Aronson
Published by Candlewick Entertainment
What do fractions have to do with pizza? The stars of the Emmy Award winning animated series "Peg + Cat" serve up a delicious new episode.
It's lunchtime at Peg's Pizza Place. Peg and Cat are excited to take their first order from the Teens only to learn that some of their customers want a whole pizza while one of them wants half a pie. How can Peg and Cat make half a pie when they don t know what "half "is? Luckily, Ramone and Mac are there to help, with a slice up the middle of the pizza. As more customers come in, things get entertaining, with Peg singing a jazzy song and Cat doing a dance. But soon there's another problem: four orders, but only two and a half pizzas left. Peg is totally freaking out until Cat reminds her that when it comes to halves and wholes, it's all in how you slice it.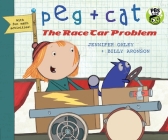 Peg + Cat: The Race Car Problem
By Jennifer Oxley and Billy Aronson
Published by Candlewick Entertainment
Peg and Cat, stars of their own Emmy Award winning animated TV series, zoom into a picture book and put math skills to the test in a lively racing adventure. Peg and Cat have built an amazing car out of things they found lying around. They've named her Hot Buttered Lightning (since she's built for speed), and they plan to win the Tallapegga Twenty. If they can make it out of the junkyard, that is. It's a good thing Peg knows the best shape to use to make wheels and how to count laps to see who is ahead. And it's lucky that Cat reminds Peg to keep calm when she's "totally freaking out." Will Peg and Cat be the first to complete twenty laps and win the Golden Cup? Or will it be one of their quirky competitors? Count on Peg and Cat to rev up young problem-solvers for an exciting race to the finish.
ABOUT JENNIFER OXLEY
Jennifer Oxley was born in Hollywood, California and caught the filmmaking bug early – she made her first film at the age of seven. Since then she has directed fifteen short films for Sesame Street, as well as the award-winning adaptation of Spike Lee and Tanya Lewis Lee's children's book, Please, Baby, Please.
Her latest film, The Music Box, was acquired by The Museum of Modern Art for their permanent children's film collection. Her work in children's television includes directing and artistic credits. Jennifer is the recipient of an Emmy Award for her role as director on Little Bill, and she created the look and animation style of The Wonder Pets!, which won an Environmental Media Award and the prestigious Japan Prize.
Most recently Jennifer teamed up with Billy Aronson to create Peg + Cat for PBS Kids, and is co-founder of 9ate7 Productions.
Source: 9ate 7 Productions
CONNECT WITH JENNIFER OXLEY
Website | Facebook | Twitter
ABOUT BILLY ARONSON
Billy Aronson is a playwright and writer. Aronson is probably best known for creating the original concept behind the Tony award-winning rock opera Rent. He's written several plays and musicals. Also, he's written for popular children's shows, and cartoons including Courage the Cowardly, Codename: Kids Next Door, The Backyardigans, The Wonder Pets, and Beavis and Butthead.
Aronson attended Princeton University. He counts several plays by Shakespeare, Looney Tunes, and The Brothers Grimm among his influences. Billy Aronson is a co-creator of Peg + Cat for PBS Kids, and is co-founder of 9ate7 Productions, with Jennifer Oxley.
Learn more about his playwriting, television work, and  here.
CONNECT WITH BILLY ARONSON
Website | Facebook
CONNECT WITH KidLit TV
Facebook Group | Facebook Page | Instagram | Newsletter | Pinterest | Twitter | YouTube
StoryMakers
Host: Rocco Staino | Executive Producer: Julie Gribble 
Did you like this article? Leave a comment below.
We love hearing from you!
This post contains affiliate links.
All Rafflecopter entrants must reside in the United States and be at least 13 years old.