By Stephanie Cummings:
Behind the scenes of The Street Beneath My Feet with Yuval Zommer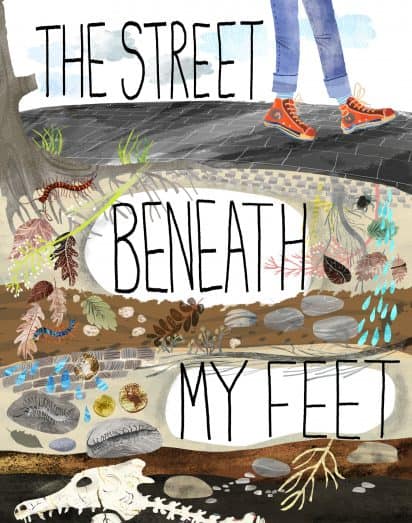 The girls were curious. What was this book that had come in the post? It looked like any other large picture book, but when opened, spilled out halfway across the room (eight feet worth to be exact!). And it was double-sided!
The Street Beneath My Feet, by Charlotte Guillain and Yuval Zommer, is not your average sit-and-listen story — it's a journey. Littles are transported from the pavement beneath their feet to the deepest layers of the Earth's core, not to mention all the bits in between. Tunnels, pipes, gemstones, sewers, bones, underground lakes are all there to study and question. Know that if you read this book with your children, the phrase "What's under our feet now?" will become very familiar.
One thread running through all the books Yuval Zommer works on is an intense curiosity about everyday surroundings, the environment, and how things work. The wonder inspired in my girls (and husband!) by The Big Book of Beasts, The Big Blue Thing on the Hill, and One Hundred Bones put Yuval on the top of my list of children's book authors I had to find out more about. So, when offered the chance to talk to Yuval about The Street Beneath My Feet, I couldn't wait to get digging.
TiaT:  Yuval, all of your books have a focus on the natural world — particularly that which we humans don't always get to see and/or have access to. What is your inspiration?
YZ: As humans, we are programmed to see and hear only a tiny slither of our world. We try to compartmentalise the world in the only ways we think we'll understand it: archaeologically, biologically, geologically. But to fully appreciate our world we need to simply embrace the sheer wonder of it all. Nature's richness is maybe sometimes beyond the reaches of our eyes and ears but not our imagination! When I grew up there was no internet and even kids TV was limited, so for me, books were always about opening doors to the places we can't get to. I think they still are.
TiaT:The Street Beneath My Feet is a perfect example of this — was it a challenge to imagine and illustrate the unseen?
YZ: Not so, once I realised that this vast world just under the pavement is very much also a living world – some animals make their homes there, tree roots are pumping minerals and water, microorganisms are constantly at work decomposing matter and creating new life, lava is still flowing and plates of rock are gradually shifting and reshaping our earth's crust. I wanted to capture some of these ongoing stories that are happening right under our feet by marrying information with picture book charm.
TiaT: Have you always been interested in critters, the great outdoors and all things scientific?
YZ: I believe that art and science can and do belong together, there is so much beauty and ingenuity in both. My inspiration is obviously Mother Nature who is the greatest artist and still the best scientist. I guess, like countless others, I am fascinated by the abundance of patterns, textures, and shapes that occur in the natural world. As I am not a scientist, I usually have an expert biologist/zoologist/geologist arranged through my publishers to make sure everything is factually robust. They look at all the detail, so, for example, my bugs all have the correct number of legs!

TiaT: Ha! It makes me smile to think of someone with a magnifying glass counting bug legs to make sure your books are accurate! We expect nothing less! So, what was the process for coming up with the unusual format of TSBMF and the illustrations that go with it?
YZ: This is the only book of mine which is not self-initiated, rather a publisher (Quarto) approached me with the concept and I simply had to say yes! I loved the challenge of one continuous looooooong image of the journey through the earth's layers. I also liked to challenge the idea of 'how a book should be read'. Vertically in this case and best spread out flat on the floor…
In all my books I aim to bring text and images together, and here the text really needed that be part of the 2.5-metre long journey and back again!

TiaT: Can you show us some of the behind the scenes sketches that led to the fabulous finished product, please?

YZ: Yes, although I do not stick to my sketches, so my sketches are really more like 'mood boards' where I look at harmony of palette and what goes well together. I guess for The Street Beneath My Feet I was trying to create the different environments for each of the layers. There was no point doing a conventional storyboard as the whole book needed to be this one huge panel once opened.
Here is an inside look at some of the gorgeous sketches and mood boards Yuval created while imagining the final illustrations for The Street Beneath My Feet:
TiaT: Yuval, which of your books was the most fun to create and why?

YZ: The one I'm working on right now! Probably because it's a break from earth, rocks, mountains and forests… it's going to be all about water! And the title has the word 'BLUE' in it which is all I'm allowed to say right now.

TiaT: Finally, what advice can you offer to budding author/illustrators?

YZ: Whether you're a writer or an artist, try to look at the world from a child's point of view.
I live in an urban area yet I still find myself noticing things like leaves, pebbles, bugs, birdsong, cloud formations. (I try not to walk and talk on my smartphone at the same time…) This ability to be curious about the world around us is something we often ignore in our hectic grown-up lives. In short, stories are all around us if you take a moment to find them.