StoryMakers On Location: The Very Hungry Caterpillar Show

The Hungry Caterpillar show features seventy-five (75) puppets created in detail to resemble the characters in The Artist Who Painted a Blue Horse, Mister Seahorse, The Very Lonely Firefly, The Very Hungry Caterpillar, and Brown Bear, Brown Bear to make the show come alive! Many puppets are life-size and others are magnified many times over — a 12 foot tall butterfly! Several of the actors are puppeteers who've worked on Sesame Street and other children's shows.
The Very Hungry Caterpillar Show is Now playing at the DR2 Theatre at Union Square – 103 East 15th Street, NY. Click here to purchase tickets for shows in New York City.
Visit KidLit TV's Read Set Draw! table in the lobby and share your creations with us! Snap a pic and tag us on social media!

ABOUT THE BOOKS OF ERIC CARLE ADAPTED FOR THE STAGE

The Very Hungry Caterpillar
Written and illustrated by Eric Carle
Published by Philomela Books
One sunny Sunday, the caterpillar was hatched out of a tiny egg. He was very hungry. On Monday, he ate through one apple; on Tuesday, he ate through three plums–and still he was hungry. Strikingly bold, colorful pictures and a simple text in large, clear type tell the story of a hungry little caterpillar's progress through an amazing variety and quantity of foods. Full at last, he made a cocoon around himself and went to sleep, to wake up a few weeks later wonderfully transformed into a butterfly!

The Artist Who Painted a Blue Horse
Written and illustrated by Eric Carle
Published by Philomela Books
Every child has an artist inside them, and this vibrant picture book from Eric Carle will help let it out. The artist in this book paints the world as he sees it, just like a child. There's a red crocodile, an orange elephant, a purple fox and a polka-dotted donkey. More than anything, there's imagination. Filled with some of the most magnificently colorful animals of Eric Carle's career, this tribute to the creative life celebrates the power of art.

Mister Seahorse
Written and illustrated by Eric Carle
Published by Philomela Books
When Mrs. Seahorse lays her eggs, she does it on Mr. Seahorse's belly She knows he will take good care of them. While he swims waiting for the eggs to hatch, he meets some other underwater fathers caring for their babies: Mr. Tilapia, who carries his babies in his mouth; Mr. Kurtus, who keeps his on his head; and Mr. Catfish, who is baby-sitting his young hatchlings. Eric Carle has done it again, with astonishingly beautiful collage illustrations and a story that introduces the very young to the wonders of aquatic life … and some very special daddies. A "hide and seek" feature with acetate overlays adds a colorful surprise.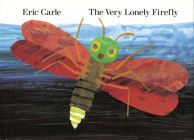 The Very Lonely Firefly
Written and illustrated by Eric Carle
Published by Philomela Books
When a very lonely firefly goes out into the night searching for other fireflies, it sees a lantern, a candle, and the eyes of a dog, cat, and owl all glowing in the darkness. It even sees a surprise celebration of light. But it is not until it discovers other fireflies that it finds exactly what it's looking for. Read it with a flashlight in the dark or under the table–and watch those fireflies glow!
Brown Bear, Brown Bear

Written by Bill Martin
Illustrated by Eric Carle
With more than two million copies sold, Brown Bear, Brown Bear, What Do You See? has opened up a world of learning to a generation of children. For this edition, created for the twenty-fifth anniversay in 1992, Bill Martin, Jr., restored his text to its original wording. And Eric Carle created all new pictures–based on the originals, but clearer, brighter, and truer to the colors they represent. Bill Martin has been devoted to writing children's books for more than thirty years. He has a Ph.D. in early childhood education and he has long been a proponent of using rhyme and rhythm to teach young children how to read.
Eric Carle, illustrator of many beloved children's books, was born in the United States, but spent his early years in Stuttgart, Germany, where he studied art and design at the Academy of Applied Art. Brown Bear, Brown Bear, What Do You See? was the first book he illustrated.
10 Little Rubber Ducks
Written and illustrated by Eric Carle
Ahoy All aboard for a world of learning and fun "Ducks overboard " shouts the captain, as a giant wave washes a box of 10 little rubber ducks off his cargo ship and into the sea. The ducks are swept away in various directions. One drifts west, where a friendly dolphin jumps over it. A whale sings to another. But as the sun sets, the 10th little rubber duck is left all alone, bobbing helplessly on the big wide sea. Small readers and listeners will empathize with the little duck's plight–and will rejoice at the heartwarming surprise ending.
ABOUT ERIC CARLE
Eric Carle is acclaimed and beloved as the creator of brilliantly illustrated and innovatively designed picture books for very young children. His best-known work, The Very Hungry Caterpillar, has eaten its way into the hearts of literally millions of children all over the world and has been translated into 62 languages and sold over 41 million copies. Since the Caterpillar was published in 1969, Eric Carle has illustrated more than seventy books, many best sellers, most of which he also wrote, and more than 132 million copies of his books have sold around the world.
Click here for Eric Carle's complete biography.
The Very Hungry Caterpillar is Eric Carle's most famous children's book. It is loved the world over and has been translated into many languages. The book inspired The Very Hungry Caterpillar Show, an off-Broadway play that adapts four of Carle's books for the stage. StoryMakers host Rocco Staino visited the 47th Street Theatre to interview the show's creator, Jonathan Rockefeller. Rocco and Jonathan discussed taking Eric Carle's work "from the page, to the stage," working with Eric Carle, and the puppeteering process.
CONNECT WITH ERIC CARLE
Website | Facebook | Twitter
ABOUT THE VERY HUNGRY CATERPILLAR SHOW
The Very Hungry Caterpillar, by author/illustrator Eric Carle has delighted generations of readers since it was first published in 1969 selling more than 41 million copies worldwide. 
 Eric's well-known books captivated readers with his iconic colorful hand-painted tissue paper collage illustrations and distinctively simple stories, introducing generations of children to a bigger, brighter world — and to their first experience of reading itself.
Now, the timeless classic makes its way off the page and onto the stage. 
Created by Jonathan Rockefeller, the critically acclaimed production of The Very Hungry Caterpillar Show features a menagerie of 75 lovable puppets, faithfully adapting four of Eric Carle stories, The Artist Who Painted a Blue Horse, Mister Seahorse, The Very Lonely Firefly and of course, the star of the show – The Very Hungry Caterpillar.
CONNECT WITH THE VERY HUNGRY CATERPILLAR SHOW
Website | Facebook
ABOUT JONATHAN ROCKEFELLER
Jonathan Rockefeller is a co-founder of Rockefeller Productions, a company that combines film, theatre, animation, puppetry and television. He also devotes time to philanthropic work furthering childhood literary and appreciation of the arts. The production of 'The Very Hungry Caterpillar Show' debuted to a sell-out season at the Sydney Festival January 2015, and will continue to tour Australia and New Zealand through 2017. Prior to his work with Eric Carle, Jonathan co-wrote and produced the puppet-parody 'Thank You for Being a Friend' which has been licensed for further productions worldwide. This year Jonathan was selected as a 'Men of Influence' by Men's Style Australia for his work in children's theater and literacy. Click here to learn more about Jonathan Rockefeller.
Jonathan enjoys seeing the faces of audience members — both younger and older — who've read Eric's books. They know the story but react very differently as they watch Eric Carle's stories unfold boldly before their eyes. The Very Hungry Caterpillar Show is especially wonderful because Jonathan Rockefeller and his team have shows that are bilingual and autism friendly.
CONNECT WITH JONATHAN ROCKEFELLER
Website | Facebook | Instagram
CONNECT WITH KidLit TV
Facebook Group | Facebook Page | Instagram | Newsletter | Pinterest |  Twitter | YouTube
StoryMakers On Location
Executive Producer: Julie Gribble