By Bethany Edwards
The new school year has begun! Kids and adults alike are eager to explore new books together. Below are three new and noteworthy picture books I feel are necessary additions to your classroom or home libraries.
As literacy champion Mem Fox says, "Spend 10 wildly happy minutes reading aloud every single day." These books make it easy to find the joy of reading.
Rock What Ya' Got
When a drawing of a little girl comes to life, she boldly declares that she doesn't want to be erased, or put into a picture that doesn't feel like her true self. Instead, she decides to speak up in a powerful way.
Additionally, she has some words of advice: embrace what you have, love yourself, and "rock what ya got." A perfect phrase to empower any child starting a new school year.
Even before they could talk, my husband and I have used affirmations with our girls. We constantly tell them that they indeed are not like anyone else, nor should they try to be.  Once again, author extraordinaire Samantha Berger has given girls a battle cry to fully embrace their unique and wonderful selves.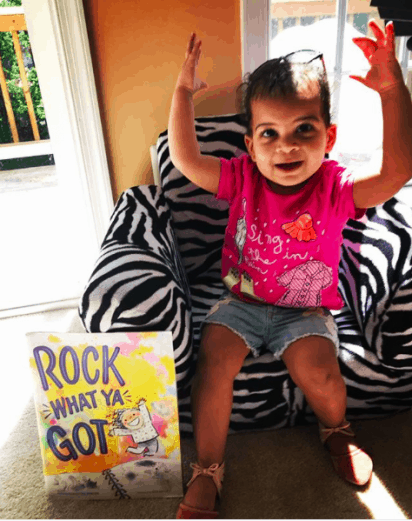 Pro tip for adults: Take your cue from my baby girl today and don't have any fear to rock what ya got yourselves. Cut yourself some slack. Lastly, in case no one has told you today, you are amazing!!
Order ROCK WHAT YA' GOT from Amazon | Shop your local indie bookstore
CONNECT WITH SAMANTHA BERGER on Twitter | Instagram | Facebook | Website
CONNECT WITH LITTLE BROWN BOOKS FOR YOUNG READERS on Twitter | Instagram | Facebook
The Wonderful Things You Will Be
Before buying the go-to inspirational back to school and graduation book, Oh! The Places You Will Go by Dr. Seuss, I want to plead with you to first, read about the systemic racism and predjudice in Dr. Seuss books. Secondly, I want to suggest the perfect alternative book to encouraging kids to dream big for their future.
From brave and bold to creative and clever, The Wonderful Things You Will Be celebrates all personalities and their potential.With gorgeous and moving illustrations, lyrical and rhyming text, this is a book readers will love reading over and over–both young and old.

A great gift for a new school year or any occasion with it's loving and inspiring message:
"Then I'll look at you, And you'll look at me, And I'll love you, Whoever you've grown up to be."
Order THE WONDERFUL THINGS YOU WILL BE from Amazon | Shop your local indie bookstore
CONNECT WITH EMILY WINEFIELD MARTIN on Twitter | Instagram | Website
CONNECT WITH PENGUIN RANDOMHOUSE on Twitter | Instagram
Melia and Jo
The highly anticipated wait for this STEAM book based on Amelia Earhart and Josephine Baker is almost over!
Meet Melia and Jo – smart, spunky five-year-old best friends with a passion for imagination and adventure.
Inspired by two groundbreaking women – fearless pilot Amelia Earhart and iconic singer and entertainer Josephine Baker – Melia and Jo capture the spirit of creativity and inspire young viewers to tackle challenges by thinking outside the box.
In each episode, Melia, a tech-savvy inventor who loves collecting junk and reimagining and engineering it, and Jo, a high-energy, natural performer who can take any idea to the next level, meet in Melia's backyard lab to create something cool and use that creation to make the world better.
Highlighting Melia's super science skills and Jo's artistic endeavors, the series weaves together themes related to STEM and the Arts to model and celebrate the power of collaboration.
"We always love doing shows about strong girls and the power of friendship," says Oxley. "But the timing of this show makes those things really urgent! Melia and Jo shows how kids can use their brains, their hands, their guts to change the world."
Order MELIA AND JO from Amazon | Shop your local indie bookstore
CONNECT WITH JENNIFER OXLEY Website | Facebook | Twitter
CONNECT WITH BILLY ARONSON Website | Facebook
CONNECT WITH HOUGHTON MIFFLIN HARCOURT BOOKS on Twitter | Instagram
Diverse Books for a New School Year
If you are reading this article and thinking "I need to take an inventory of the books in my home/classroom", phenomenal. When you finish, I have already created a list of wonderful books for every age just for you. I want to help you make an intentional and culturally responsive library full of diverse books that include biracial/ multiracial characters.
CONNECT with Bethany on Biracial Bookworms
Website | Twitter  | Facebook | Instagram | Pinterest