The 2015 Holiday Children's Book Special
Many families have traditions including decorating together, cooking a special meal, or wearing themed clothing to celebrate the holidays. Why not start a new holiday tradition of decorating your shelves with festive, heart-warming, and funny holiday or winter-themed children's books? Choosing the right book to gift a child may seem overwhelming. However, the StoryMakers 2015 Holiday Book Special will help you choose the perfect book — or provide inspiration — for the picture book or middle-grade reader in your life.
Former librarian and StoryMakers host Rocco Staino called on several children's literature experts to share their top holiday and winter picks. Maria Russo (New York Times Book Review), John Schumacher AKA Mr. Schu (Scholastic), and John A. Sellers (Publishers Weekly) read hundreds of picture books every year, speak with thousands of authors and illustrators, teachers, librarians, and children, so they know what's hot in kid lit and where adults should set their sights.
If you've ever wanted to know what Santa was like as a baby, how a young refugee spends his first holiday in New York City, or if it's possible to spread the holiday spirit through the scent of a meal, then you should tune in to this very special episode. Trust us, it's marvelous.
HOLIDAY TITLES DISCUSSED
We've provided time-stamps (in parentheses) for books discussed during this episode of StoryMakers! Affiliate links are included.
JOHN SCHUMACHER
John Schumacher (aka Mr. Schu) is Ambassador of School Libraries for Scholastic. John is a former K-5 teacher-librarian. He has served on ALSC's Children and Technology committee, AASL's Best Websites for Teaching and Learning, two Readers' Choice award committees, and the School Library Month planning committee. John is most well known for his popular blog, MrSchuReads.com.
John's Holiday/Winter Titles
Clifford Celebrates Hanukkah

 by Norman Bridwell (7:00)
Scholastic Inc.
Celebrate Hanukkah with Clifford and Emily Elizabeth! Clifford and Emily Elizabeth are celebrating their first Hanukkah. They love hearing the story of Hanukkah, eating "latkes" (fried potato pancakes) and "sufganiyot" (fried jelly donuts), and playing dreidel.
After dinner, Clifford and Emily Elizabeth take a trip into town to see the giant menorah. But when they get there, they discover that one light is broken. It's too late in the evening to call a handyman, but maybe Clifford is big enough to help save Hanukkah!
Toys Meet Snow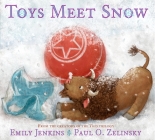 by Emily Jenkins, illustrated by Paul O. Belinsky (13:30)
Schwartz & Wade/Penguin Kids
Lumphy, StingRay, and Plastic—the toys from the beloved chapter books Toys Go Out, Toy Dance Party, and Toys Come Home—are back in a glorious full-color picture book, perfect for gift-giving this holiday season. Acclaimed author Emily Jenkins and Caldecott Medal–winning illustrator Paul Zelinsky have created a book destined to become a classic.
Children who have loved listening to the Toys trilogy, as well as those meeting the toys for the very first time, will be thrilled to see Lumphy, StingRay, and Plastic venture outdoors to play in the snow. Together the toys build a snowman, make snow angels, and when day is done, head back inside their cozy house and wait for the return of the Little Girl.

Click, Clack, Ho! Ho! Ho! by Doreen Cronin, illustrated by Betsy Lewin (16:51)
Atheneum Books for Young Readers/Simon and Schuster
Santa comes to the barnyard in this holiday addition to the award-winning Click, Clack series from the New York Times bestselling and Caldecott winning team who brought you Click, Clack, Moo and Click, Clack, Peep!
Farmer Brown is busy decorating his home in preparation for Santa's arrival on Christmas Eve! All seems calm in the barnyard, but Farmer Brown isn't the only one who is getting ready …
Once again, Duck has gotten the whole barnyard STUCK in quite a predicament! Will anyone be able to un-stuck Duck and save Christmas?
John's Gift Book
The Marvels

 by Brian Selznick (29:11)
Scholastic Press
Two stand-alone stories—the first in nearly 400 pages of continuous pictures, the second in prose—together create a beguiling narrative puzzle. The journey begins on a ship at sea in 1766, with a boy named Billy Marvel. After surviving a shipwreck, he finds work in a London theatre. There, his family flourishes for generations as brilliant actors until 1900, when young Leontes Marvel is banished from the stage. Nearly a century later, Joseph Jervis runs away from school and seeks refuge with an uncle in London. Albert Nightingale's strange, beautiful house, with its mysterious portraits and ghostly presences, captivates Joseph and leads him on a search for clues about the house, his family, and the past.
CONNECT WITH JOHN SCHUMACHER: Blog | Twitter
MARIA RUSSO
Native New Yorker Maria Russo is the children's book editor for the New York Times Book Review. After ten years on the West Coast, she returned to New York City and the Times Book Review in 2014. Maria has three children whose ages span the picture book, middle-grade, and YA categories.
Maria's Holiday/Winter Titles
Marguerite's Christmas

 by India Desjardins, illustrated by Pascal Blanchet (3:32)
Enchanted Lion Books
An old woman makes up her mind to miss Christmas. She prefers to stay home, rather than take the risk of falling or coming down with a cold. She settles into the solitude and isolation of her safe, interior world. But just as she's about to enjoy a peaceful dinner in front of the TV, her doorbell rings …

Too Many Toys by Heidi Deedman (12:00)
Candlewick Press
Ever since Lulu was a little baby, she's had Jupiter, her cuddly and most-favorite-ever teddy bear. But with each new birthday she gets new toys. And every Christmas she gets even more toys. Lulu's toys are absolutely everywhere! And now she can't even fit into her own bed. So Lulu decides to throw a very special party for all her toys—and all her friends. Charming and humorous, here is a story sure to resonate with toy-hungry children and slightly indulgent parents everywhere.
Miracle on 133rd Street

 by Sonia Manzano, illustrated by Marjorie Priceman (19:16)
Atheneum Books for Young Readers/Simon and Schuster
It's Christmas Eve and Mami has bought a delicious roast for a Christmas feast. But, oh no! It's too big to fit in the oven. Jose and Papa need to find an oven big enough to cook Mami's roast. As they walk from door to door through their apartment building, no one seems to be in the Christmas spirit. So they head down the street to find someone willing to help, and only when they do, lo and behold, the scent—itself a magical smell—of dinner begins to spread, and holiday cheer manifests in ways most unexpected.
Sonia Manzano from Sesame Street and two-time Caldecott Honor recipient Marjorie Priceman have cooked up a Christmas tale about how the simplest things—like the tantalizing smell of Christmas dinner and the sharing of it—can become a holiday miracle.
Maria's Gift Book
 Dear Santa: Children's Christmas Letters and Wish Lists, 1870-1920

 With J. Harmon Flagstone, Compiled by Mary Harrell-Sesniak (26:53)
Chronicle Books
This first-ever collection of children's letters to Santa—written between 1870 and 1920—presents more than 100 charming missives, each one yet more endearing. Along with its vintage charm, timeless sentiments, and non-denominational perspective, this heartwarming book is filled with historical discoveries that will delight everyone who loves this holiday ritual. Dear Santa is a celebration of one of Christmas's most enduring traditions, and a tribute to the millions of households that keep it alive.
CONNECT WITH MARIA RUSSO: Twitter
JOHN A. SELLERS
John A. Sellers is the children's reviews editor at Publishers Weekly. PW gave John his first job in publishing he I moved to New York in 2007. He began his tenure as a part-time assistant in the children's department. Eventually, he moved on to working in publicity at Vintage/Anchor, an imprint of Random House and at the literary agency Pippin Properties before returning to Publishers Weekly.
John's Holiday/Winter Titles
Over the River and Through the Wood: A Holiday Adventure

by Linda Ashman, illustrated by Kim Smith (2:12)
Sterling Children's Books
The classic song gets a fresh new twist The fun begins when Grandma and Grandpa send invitations to their far-flung, modern, and multiracial family: "Come to our house for the holidays and bring your favorite pie " Off everyone goes, driving down snowy roads, riding the train, boarding a plane . . . even sailing along in a hot-air balloon. As each family faces an obstacle that delays their trip, they learn that sometimes the most old-fashioned form of transportation works best . . . NEIGH
When Santa Was a Baby

 by Linda Bailey, illustrated by Genevieve Godbout (9:58)
Tundra Books/Penguin Random House
Santa's parents think their little one is absolutely wonderful, even though he has a booming voice instead of a baby's gurgle, loves to stand in front of the refrigerator, gives his birthday presents away, trains his hamsters to pull a matchbox sleigh … and has an unusual interest in chimneys. The adorably funny portrait of an oddball kid who fulfills his destiny – and two very proud parents.
Goodnight, Manger

 by Laura Sassi, illustrated by Jane Chapman (24:32)
Zonderkidz/Zondervan
Goodnight, Manger tells the story of Mary and Joseph as they try to lull Jesus to sleep in the noisy stable after his birth. It's bedtime for Baby Jesus, but who knew a manger could be so loud? Mama, Papa, and all of the animals try to lull the baby to sleep, but between itchy hay, angels' joyful hosanas, and three kings bearing noisy gifts, it's just too loud. Until Mama finds a way for everyone to work together to shepherd Baby into peaceful dreams under the twinkling stars. With sweet, rhyming text in the style of Goodnight, Goodnight Construction Site, Goodnight, Manger offers a unique twist on the classic manger tale, deftly weaving together the comforting and familiar routines of bedtime with the special magic and wonder of the manger story.
John's Gift Book
Happy!

 by Pharrell Williams (33:25)
G.P. Putnam's Sons Books for Young Readers/Penguin Random House
Nominated for an Academy Award in 2014, "Happy" hit number one on Billboard's Hot 100 list, and has topped the charts in more than seventy-five countries worldwide. Now Pharrell Williams brings his beloved song to the youngest of readers in photographs of children across cultures celebrating what it means to be happy. All the exuberance of the song pulses from these vibrant photographs of excited, happy kids. This is a picture book full of memorable, precious childhood moments that will move readers, in the same way they were moved by the song.
"Happy" has had the world dancing ever since it first hit the airwaves, and now the irresistibly cheerful tune will come to life on the page with Pharrell Williams's very first picture book! A keepsake and true classic in the making.
CONNECT WITH JOHN A. SELLERS: Twitter
ROCCO STAINO
Rocco is the charismatic host of StoryMakers, our interview show. A captivating and important figure in the book community, he is a prominent librarian, a contributing editor at School Library Journal, a contributing writer at The Huffington Post, and the Director of the Empire State Center for the Book, which administers the New York State Writers Hall of Fame. Rocco has interviewed such luminaries as Beverly Cleary, Judy Blume, and Jean Craighead George.
Rocco's Holiday/Winter Titles
An Invisible Thread: Christmas Story

 by Laura Schrod and Alex Tresniowski, illustrated by Barry Root (6:00)
Little Simon/Simon and Schuster
In her New York Times  bestselling book An Invisible Thread, author Laura Schroff tells the remarkable story of her lifelong friendship with a boy named Maurice who she met on the street while he was asking for spare change.
Now, in this sweet picture book, Laura retells the story of the first Christmas that she and Maurice spent together. She shares how Maurice gave her a stuffed white teddy bear with a red heart, the only thing he had that he could truly call his own—to show her how grateful he was for their friendship. This heartwarming tale captures the true meaning of the holidays and will be one you'll want to share with your family year after year as a reminder that a gift from the heart is always the best present under the tree.
Dear Santa, Love, Rachel Rosenstein

 by Amanda Peet and Andrea Troyer, illustrated by Christine Davenier (8:00)
Doubleday Books for Young Readers/Random House
Rachel Rosenstein is determined to celebrate Christmas this year—and the fact that her family is Jewish is not going to stop her. In a series of hilarious and heartwarming mishaps, Rachel writes a letter to Santa explaining her cause, pays him a visit at the mall, and covertly decorates her house on Christmas Eve (right down to latkes for Santa and his reindeer). And while Rachel may wrestle with her culture, customs, and love of sparkly Christmas ornaments, she also comes away with a brighter understanding of her own identity and of the gift of friends and family.
Oskar and the Eight Blessings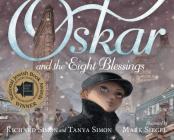 by Richard and Tanya Simon, illustrated by Mark Siegel (22:43)
Roaring Brook Press/Macmillan
A refugee seeking sanctuary from the horrors of Kristallnacht, Oskar arrives by ship in New York City with only a photograph and an address for an aunt he has never met. It is both the seventh day of Hanukkah and Christmas Eve, 1938. As Oskar walks the length of Manhattan, from the Battery to his new home in the north of the city, he experiences the city's many holiday sights, and encounters its various residents. Each offers Oskar a small act of kindness, welcoming him to the city and helping him on his way to a new life in the new world. This is a heartwarming, timeless picture book.
Rocco's Gift Book
What Pet Should I Get?

 by Dr. Seuss Random House Books for Young Readers/Random House (34:14)
This never-ever-before-seen picture book by Dr. Seuss about making up one's mind is the literary equivalent of buried treasure! What happens when a brother and sister visit a pet store to pick a pet? Naturally, they can't choose just one! The tale captures a classic childhood moment—choosing a pet—and uses it to illuminate a life lesson: that it is hard to make up your mind, but sometimes you just have to do it!
CONNECT WITH ROCCO STAINO: Twitter
What are some of your top picks for the 2015-2016 holiday season? Let us know in the comments below.
CLICK HERE TO WATCH LAST YEAR'S HOLIDAY SPECIAL
Like it? Pin it.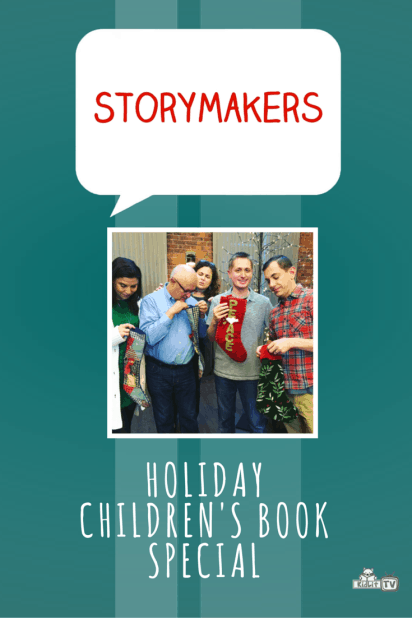 CONNECT WITH KidLit TV
Facebook Page
Facebook Group
Instagram
Newsletter
Pinterest
Twitter
YouTube
StoryMakers
Host – Rocco Staino
Executive Producer – Julie Gribble